Sweet Corn
European corn borer (ECB) adults have all but disappeared over the past week, and no map will appear in this edition.    Larval infestations are sparse now, as the last corn plantings to be exposed to ECB in the whorl now have entered the silk stage.
The highest nightly trap catches of ECB for the week ending 7/15/20 are as follows:
| | |
| --- | --- |
| Califon   1 | Eldora   1 |
| Cinnaminson   1 | Old Bridge   1 |
| Crosswicks   1 | Tabernacle   1 |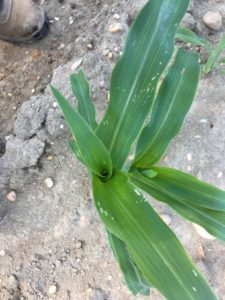 Fall armyworm (FAW) has declined, and larval infestations are no longer evident in the northern counties.  There are still low infestations in Cape May County, and moths are being captured there as well as near the Burlington/Camden County border.  This is the time of the summer when FAW can show up, resulting in significant injury to whorl and even seedling stage corn.  Injury from newly hatched larvae shows up as "window panes" or areas where leaf tissue has been eaten down the the lower epidermis (see photo at left).  This injury leads down into the whorl.  As larvae gain size, they begin to consume leaf tissue in its' entirety, creating ragged holes and lots of droppings (see photo at right).  FAW can be tough to manage because it is resistant to synthetic pyrethroid insecticides (IRAC 3A) and because larvae are often covered by their own droppings, making contact with the insecticide more difficult.  Treat when 12% or more plants exhibit FAW injury alone, or in combination with ECB injury.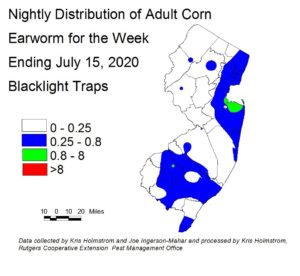 Corn earworm (CEW) moth captures remained steady at reasonably low levels in blacklight traps this past week.   Despite these lower counts,  silking corn continues to require protection from this pest.  Blacklight catches remain highest overall along the coast (see map at left).
The highest nightly trap catches of CEW in black light traps for the week ending 7/15/20 are as follows:
| | | |
| --- | --- | --- |
| Matawan   5 | Denville   1 | Farmingdale   1 |
| Centerton   1 | Downer   1 | Jones Island   1 |
| Clinton   1 | East Vineland  1 | Medford   1 |
| Crosswicks   1 | Elm   1 | Milltown   1 |