Organic Farm Advisory
The Plant & Pest Advisory serves NJ growers by reporting on important pests and recommending responses that are grounded in reproducible trials.



Articles in this section contain information helpful to the NJ commercial organic grower.



Sharing organic practice trial results between land-grant universities is a cost effective way to create a common knowledge base built on the strengths of individual programs. In the sidebar, find institutions with programs in organic agriculture which augment knowledge developed at the Rutgers New Jersey Ag Experiment Station.



Rutgers Cooperative Extension Field Guides: These concise guides help with decision making from pre-planting to harvest. For each crop listed, learn what pests to proactively look for as the season progresses, how to look for them, and when to take action.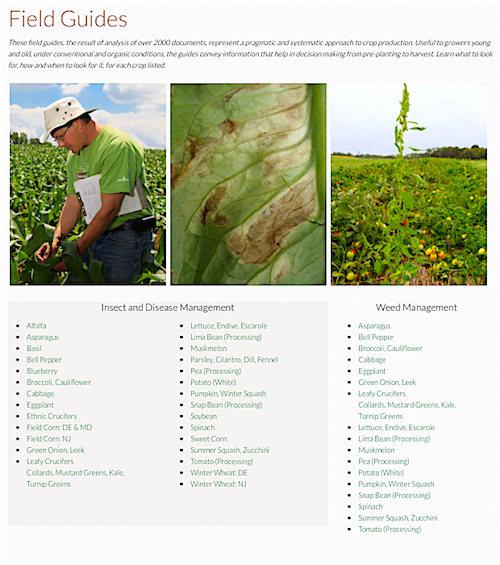 Sweet Corn
European corn borer (ECB) moth catches remain low.     There will be no map in this edition.   [Read more…]
Sweet Corn
European corn borer (ECB) moth catches remain low.   Feeding signs in whorl corn are rare.  There will be no map in this edition.  Second generation feeding is often obscured by fall armyworm (FAW) feeding.  Once plants hit full tassel, any ECB larvae present will move downward on the stalk and re-enter the plant near the area where ears are forming.  This can result in direct injury to the ear.  Growers should consider an insecticide application at the full tassel stage to target ECB larvae as they migrate downward.  This application can eliminate larvae that have escaped any earlier insecticide applications. [Read more…]
Sweet Corn
European corn borer (ECB) moth catches remain low.   Feeding signs in whorl corn are rare.  There will be no map in this edition.  Second generation feeding is often obscured by fall armyworm (FAW) feeding.  Once plants hit full tassel, any ECB larvae present will move downward on the stalk and re-enter the plant near the area where ears are forming.  This can result in direct injury to the ear.  Growers should consider an insecticide application at the full tassel stage to target ECB larvae as they migrate downward.  This application can eliminate larvae that have escaped any earlier insecticide applications. [Read more…]
Sweet Corn
European corn borer (ECB) moth catches are extremely low.  The second flight has been very weak.  Feeding signs in whorl corn remain low.  There will be no map in this edition.  Second generation feeding is often obscured by fall armyworm (FAW) feeding.  Once plants hit full tassel, any ECB larvae present will move downward on the stalk and re-enter the plant near the area where ears are forming.  This can result in direct injury to the ear.  Growers should consider an insecticide application at the full tassel stage to target ECB larvae as they migrate downward.  This application can eliminate larvae that have escaped any earlier insecticide applications. [Read more…]
Sweet Corn
European corn borer (ECB) moth catches remain unchanged.  The second flight is weak, with many traps catching no individuals.  Feeding signs in whorl corn have been exceptionally low.  There will be no map in this edition.  Second generation feeding is often obscured by fall armyworm (FAW) feeding.  Once plants hit full tassel, any ECB larvae present will move downward on the stalk and re-enter the plant near the area where ears are forming.  This can result in direct injury to the ear.  Growers should consider an insecticide application at the full tassel stage to target ECB larvae as they migrate downward.  This application can eliminate larvae that have escaped any earlier insecticide applications. [Read more…]
Sweet Corn
European corn borer (ECB) moth catches in black light traps remain very low.  The second flight is weak, with many traps catching no individuals.  Feeding signs in whorl corn have been exceptionally low.  There will be no map in this edition.  Second generation feeding is often obscured by fall armyworm (FAW) feeding.  Once plants hit full tassel, any ECB larvae present will move downward on the stalk and re-enter the plant near the area where ears are forming.  This can result in direct injury to the ear.  Growers should consider an insecticide application at the full tassel stage to target ECB larvae as they migrate downward.  This application can eliminate larvae that have escaped any earlier insecticide applications. [Read more…]