Fruit Crops Edition - Cranberry Section
Seasonal updates on diseases, insects, weeds impacting small fruit (blueberry, cranberry, and wine grape). Fruit Pest Alerts are also available via this category feed.

Subscription is through the general Fruit feed available via EMAIL and RSS.
Date:                           March 1, 2023 (Wed)
Location:                    Rutgers Agricultural Research & Extension Center, 121 Northville Road, Bridgeton, NJ 08302
Pre-Registration:       Required, by February 28th Contact: (856) 224 – 8030 or Email: jmedany@co.gloucester.nj.us
Registration fee        $20.00 (Checks preferred, made out to Rutgers University). Lunch, Coffee and Pastries Included
Pesticide Credits:      Requested for – CORE, PP2, 10, 1A [Read more…]
A Pinot Noir wine tasting and evaluation workshop for winemakers was held on November 3, 2022, at the Alba Vineyards, in Warren County. Pinot Noir is one of the most famous wine varieties in the world. In New Jersey (NJ), several vineyards are growing it, making high-quality Pinot Noir wine, and blending it. However, the fruit can lose flavor and acidity during the warm summer, hence recommended for northern NJ. In southern NJ, it is grown for sparkling wine; however, areas with significant maritime influence can also grow still Pinot Noir. The responses to a survey weeks before the event formed the basis of discussion at the workshop.
Participating Wineries: Alba Vineyards, Armstrong Valley Vineyard, PA, Autumn Lake vineyard, Beneduce Vineyards, Crosswick Creek Estate vineyard, Setter Ridge Vineyard, PA, Unionville Wineries; and William Heritage Winery. A few new wineries also participated in the discussion.
Vineyard Challenges:  Pinot Noir is an early bud break variety, and, in some years, growers had to manage frost damage. The 2020 spring frost caused severe primary bud damage; however, the secondary buds pushed and gave low yields and light wine color. In wet years, some tight cluster clones of Pinot Noirs are highly likely to get botrytis and or sour rot just before reaching full ripeness, which can result in the presence of Volatile Acids (VA) in wine. Also, the earlier ripening compared to other varieties means it is prone to bird damage, which can cause berry injuries and contribute to the development of rots and faulty wine. A vineyard used trace bloom thinning to loosen the clusters; however, it resulted in bigger berries and was counterproductive. Growers agreed that the successful management of rots must include; 360°-degree exposure for clean fruits; in wet years, scooping out rot from the cluster by removing berries instead of clusters; and application of OxiDate, a bactericidal product that dry ups fruit and reduces the damage.
There are numerous known Clones of Pinot Noir; however, about 10-15 clones are very popular thought out the world for their different traits. Having a clone of a unique profile and knowing where to plant is very important to get the best possible Pinot Noir wine. Clones 667 and 777 are very aromatic; however, they tend to get rot a few days before they ripen. Clones 114 and 115 are slightly tighter than the above two; however, they are highly valued for balance and high aromas. Clone 943 has smaller berries but slightly open clusters, high sugar content, and excellent flavor intensity. Clone 23 has a bigger and looser cluster; it is sweet, has very dark fruit, has a very earthy aroma, and has a very soft tannin structure. Pommard or Clone 5 has a dark color and can be a standalone clone. Clone Wadenswail is one of the most popular clones for its ability to thrive in cool climate ripening and a long season with less disease susceptibility. Most participants had some or most of the clones mentioned above and agreed that using multiple clones in the same wine can build complexity. Pinot Noir gives an opportunity and flexibility to blend these traits in the vineyard.
Harvest Parameters and Yield: Wineries monitored the sugar and acid levels to decide on harvesting. Most vineyards reported a yield of 2-3 tons per acre, with few even picking up to 4 tons per acre. Alba vineyard has a planting density of 2100 vines per acre to enhance the highly ripened fruit and not necessarily the yield. They are aiming to go even higher density in their future planting. A Pennsylvania-based winery with experience growing Pinot Noir for more than 20 years mentioned that they avoid yields higher than 2.5 tons during the first five years; after that, tannins go up, and the best wines come after eight years. They also observed that the best fruit comes from the top site from which they make reserve Pinot Noir. Few vineyards mentioned that they avoid using herbicide at all or at least during the growing season. Participants agreed on the importance of picking clean fruit to avoid VAs in the vineyard. The vintage can also significantly influence Pinot Noir's wine quality.
The problem of high pH due to high potassium (K) concentration is known. However, few wineries observed a low K+ from leaf petiole analysis at harvest; however, by the time MLF was done, pH went up. According to Gary Pavlis, the K in the grape skin is difficult to measure and can contribute to high acidity. According to Sutter Ridge Vineyard, the problem of high pH Pinot Noir is also common in France, and a slightly higher pH of up to 4.0 is OK, even though it may give brown color. In the newsletter article "Making (red) wine from fruit high in potassium," Dennis Gardener points out how to address the problem of high K.
Most wineries performed Cold Soaking for 3-5 days right after the harvest, and few wineries avoided it. According to Dr. James Harbertson, Professor of Enology at Washington State University, anthocyanins are water soluble and super easy to extract, and the main benefit is the extraction of flavors. However, thin-skinned varieties such as Pinot Noir and Grenache are outliners. "Origins of cold soak is in white wines production, and Pinot Noir was the earliest red wine to receive cold-soak treatment, which is closer to the white grape than red grape." Most wineries destemmed and crushed clusters before the fermentation; however, few wineries performed whole cluster fermentation. Whole cluster fermentation is employed to extract the mellow and spicy flavors from the cluster stems or to promote carbonic maceration, as in the case of Beneduce vineyards, using 10-15% of whole clusters. The stems must be ripe, brown, and woody; green or underripe stems (brown outside but green inside) can bring vegetal and herbal notes. A winery mentioned that their experiment with whole cluster fermentation was not great and switched only to destemming.
Fermentation: Most winemakers like to use a variety of yeast strains such as CVRP, RA17 – widely used in the Burgundy region, Assmanshausen, and their combinations. There is a preference to use native yeast along with traditional yeasts, while one winery only uses native yeast that was isolated for future use. There is a way to identify native yeasts from harvested grapes; however, that requires 'tons of experiments' followed by wine analysis services such as ETS, which will help identify and isolate a culture of 'mother yeast.' A grower mentioned that they don't prefer to make wine out of a catalog and only use natural fermentation, where the fruits are allowed to ferment without adding anything. While native fermentation gives a great nose and more complexities, it is essential to bring clean and healthy fruit; otherwise, wild strains and bacteria can quickly take over the process. Most wineries used Malolactic fermentation (MLF), and few avoided it. During MLF, tart malic acid is converted into the less acidic lactic acid by the action of the bacteria. Most used the VP41 strain of bacteria, while others used PN4 and 0-MEGA. One winery used a native strain to perform MLF. Few performed partial MLF, where only 50% of the wine went through MLF.
A winery measured YAN (Yeast Assimilable Nitrogen) at the winery and found a lower number; they managed it by foliar application of nitrogen a week before the harvest along with the sulfur. Another winery used a wine testing service to get the YAN numbers and then adjusted the numbers by adding 5g/hL Fermaid K and a similar amount of Yeast Hulls to fermentation that needed it.
Oak Flavoring: The standard choice was the French Oak; however, most used 10-15% new oak. As Dr. Anita Oberholster, UC Davis enologist, forewarns, "Barrel aging of Pinot Noir certainly adds numerous flavor and aromatic compounds; however, New oak is like garlic or chili in cooking; if you use too much of it, you will kill the flavor." The duration in Oak was for at least 16 months for most wineries.
References:
Coia L. and Ward D. 2018. Wine Grape Varieties of New Jersey. Rutgers NJAES.
Gardener D. 2016. Making Red Wine from Fruit High in Potassium. Penn State Extension Wine & Grape U. https://psuwineandgrapes.wordpress.com/2016/09/23/making-red-wine-from-fruit-high-in-potassium/
Jackson R. 2014. Wine Science: Principles and Applications. Fourth Ed. Elsevier.
Previous Notes:
2021 Chardonnay Wine Tasting and Evaluations: https://go.rutgers.edu/5q5m8b8v
2020 Cabernet Franc Wine Tasting and Evaluations: https://go.rutgers.edu/nljulicx
2015 Chardonnay Wine Tasting and Evaluations:  https://go.rutgers.edu/6zra77ru
Greetings Everyone, 2022 Wine Tasting and Evaluations meetings are scheduled. Participants are invited to bring their own wine releases. Each wine tasting will be followed by discussions. Please respond to below surveys, on harvest parameters, wine making processes, etc. That will also form the basis for the discussion. [Read more…]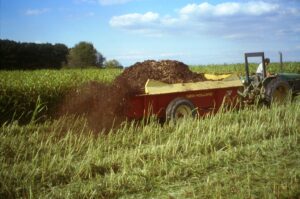 Multiple Northeast SARE (Sustainable Agriculture Research and Education) grant recipient Tommye Lou Rafes, of T.L. Fruits and Vegetables in West Virginia, is sharing her experiences to help other farmers experiment with new ideas through the Farmer Grant program.
At noon on October 4th, 2022, Rafes will join Northeast SARE Grant Coordinator Candice Huber for an informational webinar to assist farmers interested in applying for up to $30,000 in funding for projects beginning in March 2023. Registration is required and participants are encouraged to submit questions ahead of the event. The Call for Farmer Grant Proposals is currently available and the online system for submitting applications is opening soon. Applications are due November 15, 2022.
Northeast SARE Farmer Grants are perfect for farmers looking to grow through new practices. Rafes first learned about SARE while attending a Good Agricultural Practices (GAP) training. One of the professors hosting the meeting was a SARE reviewer who invited the attendees to apply for a grant. Rafes knew sustainable practices like using renewable-powered high tunnels to extend growing seasons could be good for business as well as the planet. "Growing in the winter months is a completely different way than you do in the summer months," she said. "I decided to test varieties that were successful during the winter months as well as growing conditions that could be improved so that people would be more successful."
Grant Coordinator Candice Huber says Farmer Grants are an opportunity for farmers to try things that could improve their operations. SARE funds can cover the farmer's time on the project, any farm workers time spent on the project, supplies that are not capital purchase, technical support, soil testing and other budgeted items. Farmer grant projects generally are for one year.
If you have an idea and you need resources to really explore it, a Farmer Grant can connect you with those resources. This webinar will be a good starting point and participants must pre-register. See below.
To sign up for the October 4th webinar at 12:00PM go to https://us02web.zoom.us/webinar/register/6516611235851/WN_RoG_IkMmSDGsduZwmFgKkA
For information about the application for SARE Farmer grants see https://www.sare.org/wp-content/uploads/Northeast-SARE-Farmer-Grant-Call-for-Proposals.pdf
For general information about Northeast SARE go to Northeast SARE Home Page – SARE Northeast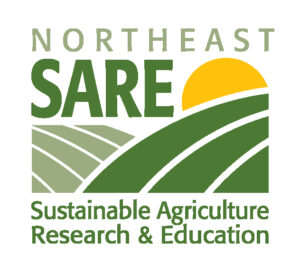 A Chardonnay wine tasting and evaluation workshop for winemakers was held on August 18, 2021, at the William Heritage Winery, located in Gloucester County. Chardonnay is one of the most suitable Vitis vinifera varieties for New Jersey for both north and south New Jersey. It is also one of the best white varieties for New Jersey in terms of consistency in ripening. It can be easily adapted in the winery for Sparkling, dry still varietals, and white wine blends. For example, a few wineries blended 75-80% Chardonnay with the remaining comprised of Pinot Noir, Pinot Gris, and Sauvignon Blanc. The responses to a survey weeks before the event formed the basis of discussion at the workshop. Winemakers also described how they accomplished each of their wines. [Read more…]