Rutgers Cooperative Extension is working with other extension professionals in the northeastern states to deliver weekly, one-hour webinar programming for agritourism and on-farm direct market operators each Tuesday in May until the first week in June. We are announcing the first session and will post the registration information for more sessions soon. Registration is being handled through the University of Vermont. See information below to join the first webinar. 
Session 1: Getting Ready for Pick-Your-Own — Do's and Don'ts for the Upcoming Season
Tuesday, May 4, 4:00-5:00pm Eastern time
No charge but you must register in advance.
Register for FREE HERE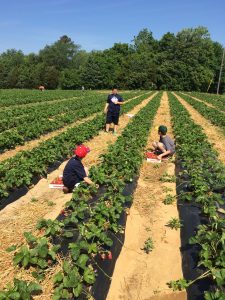 Join growers and ag service providers from the Northeast for an interactive discussion about what is working and what is not as we prepare to open our farms to visitors for the upcoming pick-your-own season. The berries are ripening and the Covid-19 pandemic is evolving – what does that mean for PYO visitor management this season? What did you do last year that you'll continue and what will be different this season?

Featuring:
-Deb Colitas from Valley Fruits & Veggies in the Lehigh Valley of PA
-Claudia Schmidt from Penn State Extension
-Lisa Chase from University of Vermont Extension
-And YOU! Come ready to share your PYO questions and experiences managing visitors.

This is the first agritourism/on-farm direct marketing zoom session in a series that will cover several topics for farms open to visitors through the evolving COVID-19 pandemic. Other sessions will be held on consecutive Tuesdays on May 11, 18, 25, and June 1. For more programs and information see the Rutgers NJAES Events Calendar. 
Session 2: Agritourism Operation Checklists and Self-Assessment During the Pandemic, When: May 11, 2021 7:00-8:00 PM Eastern Time – Register HERE
Session 3: What to Do when Something Goes Wrong, Incident Response and Media Relations, When: May 18, 2021 7:00-8:00 PM Eastern Time – Register HERE
Session 4: Liability Insurance, When: May 25, 2021 12:00-1:00 PM Eastern Time – Register HERE
To request a disability-related accommodation to participate in this program, please contact Christi Sherlock at 802-476-2003 or Christi.Sherlock@uvm.edu for assistance.