Tree Fruit Edition
Seasonal updates on insects, diseases, weeds, maturity dates and cultural practices impacting only tree fruit.

Subscriptions are available via EMAIL and RSS.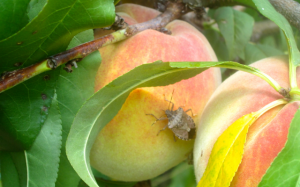 Valent and Gowan have released a supplemental label for Venom and Scorpion (dinotefuran).
[Read more…]
Plum curculio activity has begun in Southern New Jersey. [Read more…]
Peach
Apple
Pear
Scouting Calendar
Trap Counts (Southern Counties)
In southern counties there is a significant risk for fire blight from Thursday through the weekend for any Pear or Apple orchards with blossoms open. If your orchards are at risk apply antibiotics at the first opportunity. The forecast rain will also be the first significant scab infection for apples. Growers can personalize their risk by visiting the NEWA website. Enter your zip code and follow the links for fire blight and apple scab. You will be prompted to enter phenology information for your location. Using April 6th for  50% McIntosh green tip, the model indicates approximately 40% ascospore maturity on April 20th for South Harrison Township Gloucester County.
Early season season disease control on apple, which is defined in this article as the period from 1/2″ green to second cover, consists of simultaneous management of apple scab, powdery mildew, and cedar apple rust. Of these three diseases, the primary target is typically apple scab. During this period, the initial scab inoculum in the form of ascospores infects both leaves and young fruit.  [Read more…]
Peach
Pear
Apple
Scouting Calendar