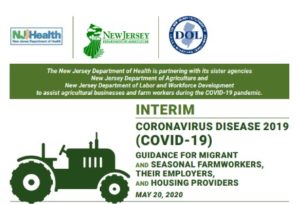 Tue June 16, 2020
7:30 PM – 9:30 PM
All NJ agricultural employers are invited to learn directly from NJ Departments of Health, Labor and Agriculture who will discuss expectations for implementation of the "NJ COVID-19 Guidance for Migrant and Seasonal Farm Workers, Their Employers & Housing Providers" document in a Webex webinar hosted by Rutgers Cooperative Extension.
This event requires registration and there will be a follow-up survey.

Agenda
Welcome
Rick VanVranken & Wes Kline, Agricultural Agents, Rutgers Cooperative Extension
Introductory Remarks
Secretary of Agriculture Doug Fisher, NJ Dept. of Agriculture
Introduction of Speakers
Asst. Secretary of Agriculture Monique Purcell, NJDA
Overview and Expectations for Implementing COVID-19 Guidance for Migrant and Seasonal Farmworkers, Agriculture Employers and Housing Providers.
Amanda Medina-Forrester, MA, MPH, Executive Director, Office of Minority & Multicultural Health, NJ Dept. of Health
Christine Blumauer, Policy Advisor, Office of the Commissioner, NJ Dept. of Labor & Workforce Development
Moderated Questions & Discusson
Reaction & Summary
Pete Furey, Exec. Director & Ben Cassella, Field Representative, NJ Farm Bureau
The webinar will end with a quick follow-up survey to assess your understanding and implementation of these guidelines. It will be completely anonymous.
The NJDOH partnered with the NJDA and the NJDOL to create this guidance for agricultural employers focusing on precautions to help protect farm employees from COVID-19 on New Jersey farms and in farm labor housing. This webinar will review these guidelines. Questions from participants will be taken and addressed during the webinar.