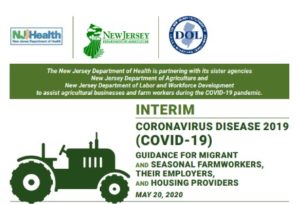 NJ Dept of Agriculture Secretary Douglas Fisher just announced, "At 3:30 today, we just received final approval to release the attached official guidance on migrant seasonal farmworker housing."
The New Jersey Department of Health is partnering with its sister agencies New Jersey Department of Agriculture and New Jersey Department of Labor and Workforce Development to assist agricultural businesses and farm workers during the COVID-19 pandemic.
Please review the attached document carefully. This is titled INTERIM CORONAVIRUS DISEASE 2019 (COVID-19) GUIDANCE FOR MIGRANT AND SEASONAL FARMWORKERS, THEIR EMPLOYERS, AND HOUSING PROVIDERS.
Adopt these recommendations carefully for the protection of not only your workforce, but for you, your family and the entire ag community.