Fruit Crops Edition
Seasonal updates on diseases, insects, weeds impacting tree fruit and small fruit (blueberry, cranberry, and wine grape). Fruit Pest Alerts are also available via this category feed.

Subscriptions are available via EMAIL and RSS.
Peach
Apple
Pear
Scouting Calendar
Blueberry
Trap Counts

During the weeks of May 13-17 and June 3-7, the NJDEP Pesticide Control Compliance and Enforcement will be conducting inspections of NJ farmers who currently or previously reported using soil fumigants, primarily Vapam (metham sodium).
There are about 50 NJ farms reporting fumigant use. These farms will be the targets of the compliance assistance inspections. The inspections are being conducted by NJDEP as non-citation "compliance assistance" in response to changing regulations from US EPA for assuring safety of fumigant application workers by licensed applicator farmers.
From the Blueberry Bulletin
Dr. Cesar Rodriguez-Saona, Extension Specialist in Blueberry Entomology
Mr. Dean Polk, IPM Agent – Fruit
Mr. Gene Rizio, IPM Program Associate – Fruit
Cranberry Weevil
Plum Curculio
Red Banded Leafrollers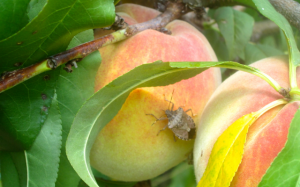 Valent and Gowan have released a supplemental label for Venom and Scorpion (dinotefuran).
[Read more…]
Plum curculio activity has begun in Southern New Jersey. [Read more…]
Stinger has been labeled for weed control in stone fruit orchards, including peaches, nectarines, apricots, plums, and cherries.  The weeds controlled fall into two botanical plant families, composites and legumes.  Common composite weeds found in our orchards include Canada thistle and other thistles, goldenrod species, aster species, common dandelion, mugwort (wild chrysanthemum), horseweed (marestail or stickweed), and ragweed species.  Legume weeds include vetch species and clover species. [Read more…]