Fruit Crops Edition
Seasonal updates on diseases, insects, weeds impacting tree fruit and small fruit (blueberry, cranberry, and wine grape). Fruit Pest Alerts are also available via this category feed.

Subscriptions are available via EMAIL and RSS.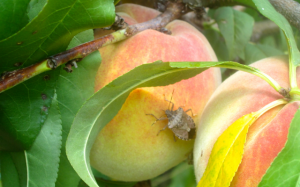 Valent and Gowan have released a supplemental label for Venom and Scorpion (dinotefuran).
[Read more…]
Plum curculio activity has begun in Southern New Jersey. [Read more…]
Stinger has been labeled for weed control in stone fruit orchards, including peaches, nectarines, apricots, plums, and cherries.  The weeds controlled fall into two botanical plant families, composites and legumes.  Common composite weeds found in our orchards include Canada thistle and other thistles, goldenrod species, aster species, common dandelion, mugwort (wild chrysanthemum), horseweed (marestail or stickweed), and ragweed species.  Legume weeds include vetch species and clover species. [Read more…]
From Mark Chien's Wine Grape Information for Pennsylvania and the Region Apr 15, 2013
http://pawinegrape.com/
Just a few of the topics Mark covers in this issue:
Grape IPM
Wine Grape Integrated Pest Management Workshop Presentations, March 2013
Red Blotch Virus Learning Resources- "If you have vinifera vines that were planted in the past five years that have displayed reddening of leaves, particularly late in the season, they may be infected by the Red Blotch virus.  The symptoms are similar to leafroll and growers should study fact sheets to tell the two apart.  Red Blotch can severely affect a vine's ability to ripen its fruit."
Peach
Apple
Pear
Scouting Calendar
Trap Counts (Southern Counties)
In southern counties there is a significant risk for fire blight from Thursday through the weekend for any Pear or Apple orchards with blossoms open. If your orchards are at risk apply antibiotics at the first opportunity. The forecast rain will also be the first significant scab infection for apples. Growers can personalize their risk by visiting the NEWA website. Enter your zip code and follow the links for fire blight and apple scab. You will be prompted to enter phenology information for your location. Using April 6th for  50% McIntosh green tip, the model indicates approximately 40% ascospore maturity on April 20th for South Harrison Township Gloucester County.