A metabolic syndrome that sometimes affects ruminants, particularly cows on lush fall pastures is Acute Bovine Pulmonary Emphysema (ABPE), sometimes referred to as "Fog Fever".  ABPE can occur in ruminants, especially cattle, transitioning from dry summer pastures or poor quality forage in the fall, to pastures that may be lush and fresh.  Cows may develop signs of lung disease within a few days to two weeks after the pasture change.   Death may occur within several days after the appearance of clinical signs.  It is nearly always fatal.
This change can result in an undesirable toxin produced by rumen fermentation.  Tryptophan is an amino acid found in protein.  It is converted to indoleacetic acid and then to 3-methylindole (3MI) in the rumen.  3MI is absorbed into the blood, transferred to the lungs and in the lungs can cause damage to lung cells.  It can occur in a variety of forage types, especially when the rumen is not properly adapted to the new forage.  There is no effective treatment, producers should focus on prevention.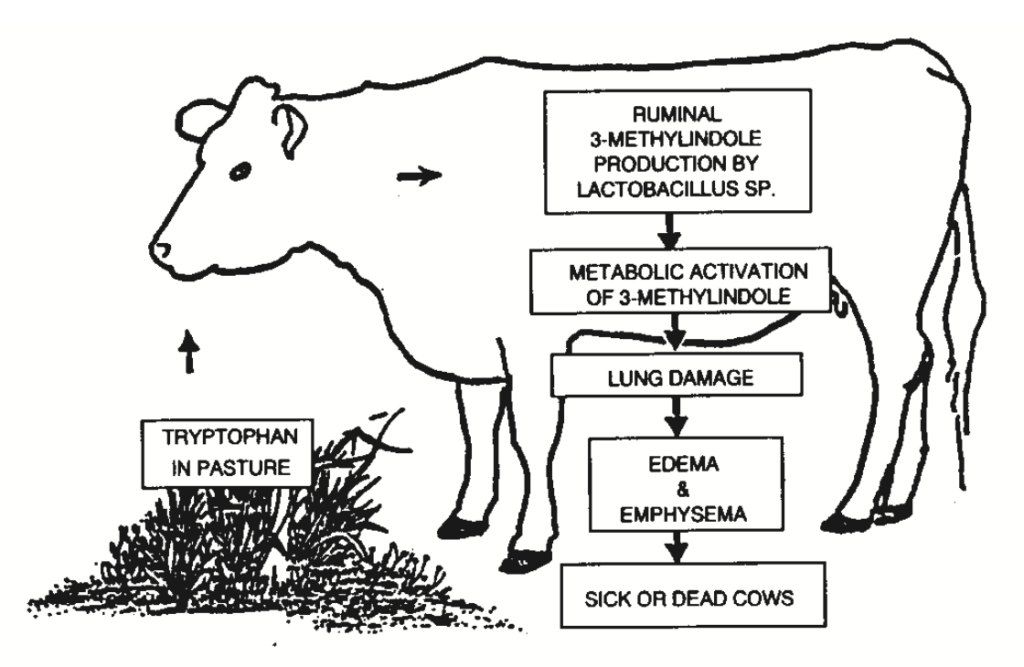 It occurs in lush regrowth forage, and is usually seen in the fall.  Preventative measures:
1. Feed cattle  good quality dry hay for a few days and then slowly introduce them to the lush pastures by increasing grazing time over a 10-14 day period.
2. Delay grazing of lush pastures until after a hard frost.
3. Cut lush fall pastures for hay prior to grazing.
4. Graze prior to lush fall regrowth.
5. Consider feeding an ionophore such as Rumensin® or Bovatec® before turning the cattle onto the lush pastures. These compounds change the rumen fermentation of tryptophan and may decrease the chances for ABPE or "Fog Fever".  Consult your veterinarian for advice if you anticipate using either of these compounds to prevent ABPE.
For more information: