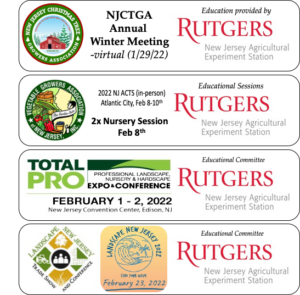 There are numerous educational opportunities in the next few weeks that are either led directly by Rutgers RCE faculty or Rutgers faculty served on the association's Educational Committee
Rutgers Led Programing:
1. This Saturday (1/29 – 12:00 – 1:30pm) – NJ Christmas Tree Growers Association – Annual Winter Meeting – Virtual – Open to anyone but you must register – click here  (Must upload IDs to a Rutgers Connect Secure Folder –  click here to upload Gov. ID and Pesticide license for this meeting only!) 
12:00 – 12:45pm – Tim Waller and Bill Errickson – Detection and Management of Phytophthora in Christmas Trees – update from summer research
12:45-1:30pm – George Hamilton – Pesticide Safety and Regulations Update
Pesticide credits (1x CORE, PP2, 3A, 10)
2. (2/8 – Morning and Afternoon Sessions) – NJ Agricultural Convention and Tradeshow – Nursery and Ornamental Sessions (Atlantic City – in-person)
Speaker highlight – If you have issues with Red-headed flea beetle you don't want to miss our guest speaker Danny Lauderdale (NC State), he will be discussing control options for adults and larvae.

We are EXTREMELY lucky to have this opportunity – Don't miss this, he basically wrote the book on this pest. 

Pesticide credits available
Rutgers advisory to associations' Educational Committee Events: 
1. (2/2 and 2/3) – NJ Nursery and Landscape Association – Total Pro Expo (in-person)
RCE speakers include Tim Waller, Bill Errickson, Steve Rettke, Rich Buckley, and Raul Cabrera

Multiple forms of recertification credits
2. (2/23) – NJ Landscape Contractors Association – Landscape New Jersey (in-person)
RCE speakers include Tim Waller, Bill Errickson, Lauren Errickson, Rich Buckley, Sabrina Tirpak, George Hamilton, Raul Cabrera and Christina Kaunzinger
We look forward to seeing everyone at these virtual or in-person events soon! Stay tuned for more programing as the seasons develops.
Rutgers is dedicated to protecting your privacy and keeping your personal information safe.  Upon upload, your files will be encrypted and stored to Rutgers Connect. Your information will be kept strictly confidential; used solely to meet NJDEP ID verification protocol for recertification credit; and will not be used for any other purpose. Your files will be deleted within 60 days after the training event.