Weed Science Webinar Series
USDA – ARS and the Weed Science Society of America (WSSA) are co-hosting 10 webinars on weed science and research. Beginning April 5, presentations will be given by ARS weed science research experts.
The webinars will occur every Tuesday from 2-3p.m. Eastern Time (ET) and include an interactive Q&A session.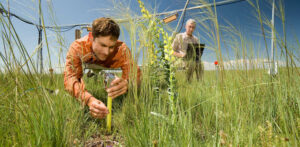 Weed Science Webinar Series Schedule
April 5
ARS Weed Science: Past, Present, and Future: Steve Duke, Principal Scientist at the National Center for Natural Products Research at the University of Mississippi, Steve Young, National Program Leader – Weeds and Invasive Pests, WSSA Representatives and ARS Administrators
Meeting Information:
Zoom Meeting Link
Webinar ID: 831 3320 1055
Passcode: 825921
Please download and import the following iCalendar (.ics) files to your calendar system.
Theme I: Tactics
April 12
Integrated Weed Management in Cropping Systems: Marty Williams, Ecologist at the Global Change and Photosynthesis Research Unit in Urbana, IL
April 19
Non-Crop Systems: Advancements in Weed Biocontrol Tools: Melissa Smith, Research Ecologist at the Invasive Plant Research Laboratory in Fort Lauderdale, FL
April 26
New Technology for Weed Identification and Control: Steven Mirsky, Research Ecologist at the Sustainable Agricultural Systems Laboratory in Beltsville, MD
Theme II: Mechanisms
May 3
Role of Plant Physiology in Weed-Crop Competition: Dave Horvath, Research Plant Physiologist at the Sunflower and Plant Biology Research Unit in Fargo, ND
May 10
Molecular Basis for Controlling Invasive Plants: Matt Tancos, Research Plant Pathologist at the Foreign Disease-Weed Science Research Unit in Fort Detrick, MD
May 17
Addressing Herbicide Resistance with Alternative Chemistries: Scott Baerson, Molecular Biologist at the Natural Products Utilization Research Unit in Oxford, MS
Theme III: Impacts
May 24
Spread and Distribution of Invasive Plants: John Madsen, Research Biologist at the Invasive Species and Pollinator Health Unit in Albany, CA
May 31
Climate Change Effects on Weeds and Management: Dana Blumenthal, Ecologist at the Rangeland Resources & Systems Research Unit in Fort Collins, CO
June 7
Restoration for Managing Invasive Plants: Roger Sheley, Ecologist at the Range and Meadow Forage Management Research Unit in Burns, OR