Attention:  Please refer to this updated CEW pheromone map for the weekending 9/30/20.  We were able to procure some late data from traps in the southwestern portion of the state.  These indicate a significant influx of CEW moths on the recent storm system.  At this time, these migratory individuals appear to be limited to southwestern NJ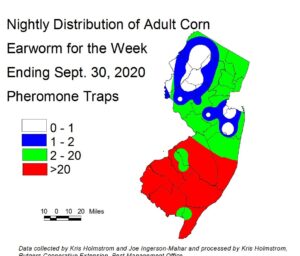 (see CEW pheromone map at left).  The blacklight network is still indicating a 3-day silk spray schedule in the northern counties, while the pheromone network is at 5-6 day.  In the south, the pheromone map is now indicating a 3 day spray schedule.  Under cold night conditions, it is possible to adhere to a more relaxed schedule, but growers should tighten up by a day if we return to warmer nights.   The number of pheromone traps deployed is much lower, resulting in much broader color bands on the map.    Additionally, several of the northern pheromone trap sites no longer have silking corn nearby.  This influences the catch, resulting in fewer moths captured.   The current population continues to be an economic threat.  It is important to use effective materials to manage this pest on silking corn.  Insecticides in the IRAC 28 class (Coragen, Besiege, Exirel) and IRAC 5 (Radiant, Blackhawk, Entrust (OMRI approved)) remain among the most useful insecticides against CEW.
The highest nightly trap catches of CEW in pheromone traps for the week ending 9/30/20 are as follows:
| | | |
| --- | --- | --- |
| Monroeville   180 | Pedricktown   20 | Springdale   7 |
| Woodstown   150 | Eldora   12 | South Branch   2 |
| Green Creek   31 | Berlin   10 | Allamuchy   1 |
Silking Spray Schedules*:
South – 3 days
Central – 3-4  days
North – 4-5 days
*These recommendations are based on regional catches.  Adhere to tighter spray schedules if indicated by local trap catches.  Synthetic pyrethroids alone should NOT be used for corn earworm (CEW) protection on silking corn, or for fall armyworm (FAW) management at any stage.  Control with these materials is very inconsistent.