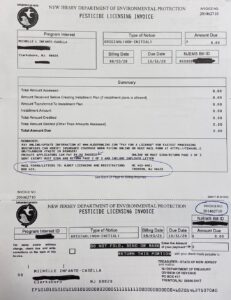 Rutgers Cooperative Extension Agricultural Agents have been receiving questions from farmers on what to do with the renewal applications they recently received from NJDEP Pesticide Control Program. The invoice may be somewhat confusing. So here are a few tips to help.
1. The $0.00 Amount Due is correct on the invoice. Farmers with a "Private" applicator licenses do not pay for licenses and renewals. So you do not need to send any payment and in the box where it says "enter the amount of your payment" enter $0.00.
2. The best way to complete this renewal is not to mail in the form, but instead renew online. CLICK HERE to renew your license online. YOU WILL NEED YOUR PAPERWORK WITH YOUR "INVOICE NUMBER". Do not use the NJEMS Bill ID number, instead find the invoice number above.
It would be a good idea to print the screen with the confirmation that you renewed online, since the system does not send you an email confirmation. The screen also states, "License generation may take a few weeks". So, please be patient and if you need to use your license number, continue to use the same number on your expired license for recertification credits, as your license number will not change. It also says to not send the paper forms once you did your online submission. See photo to the below for an example of the confirmation screen you will see when renewing online.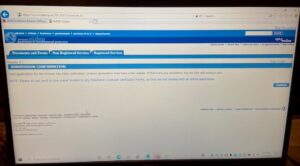 3. If you must mail the renewal, here are some TIPS:
a. You will need to provide your own envelope and a stamp when mailing back the forms.
b. Also, the form may be confusing since the bottom tab to return says to mail to Treasurer-State of New Jersey, while the "Reminder" section says to mail forms/letters to NJDEP Licensing and Registrations.
c. Do not mail the bottom tab and other information for renewal of your Private Pesticide license to NJDEP. It is to be mailed to the NJ Department of Treasury – as stated on the return portion at the bottom of the first page.
d. Fill out page 2 and check to see if all your information is correct on page 2. Do not forget to sign and date the bottom of page 2 before mailing with your "payment" tab from page 1.
e. It may be best to send these forms in using USPS "Certified Mail" or UPS or FEDEX to track that it was received. Your pesticide license is very important for your business and you would want to verify it was received.
If you need more assistance with pesticide licenses, contact the NJDEP. Contact information in the photo below.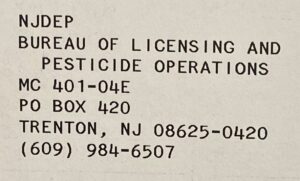 Best wishes and we hope this information is helpful in renewing your NJDEP Private Pesticide Applicators License.