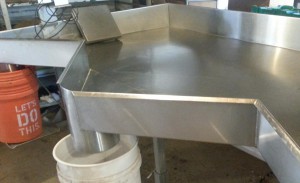 Sanitizing product contact surfaces is important in reducing cross contamination risks.  "Product contact surfaces" means anything that comes in contact with the product such as equipment, belts, rollers, brushes, tables, bins, sinks, tools, and reusable totes.  Writing a standard operating procedure describing the specific steps of your cleaning process will help ensure that the surfaces are properly cleaned.
Proper cleaning and sanitizing of contact surfaces includes these steps:
Surface is rinsed to remove any visible debris
Appropriate detergent is applied and the surface is scrubbed
The surface is rinsed with water that is potable (drinkable)
Appropriate sanitizer is applied, following the directions
Let the surface air dry
An appropriate sanitizer for use in post harvest surface cleaning is one that has an EPA registration number, states that it is food grade, and gives specific instructions for the products use as a surface cleaner.  Remember the label is the law.