Peach
Oriental Fruit Moth (OFM): A fourth flight is now being seen as trap captures start to increase (in apples). Since most peaches are off, this is not a concern in most blocks. However if you have very late varieties, especially if close to apple plantings, then treatments are needed.
Tufted Apple Budmoth (TABM): All treatment timings are over for this pest statewide. The only exceptions would be in northern counties where there may be visible injury, and growers want to continue the use of B.t. products.

Apple
Codling Moth (CM): All treatments are past in southern counties, unless trap captures remain above 5 males per trap per week. One farm in northern counties had over 45 males per trap. Later treatments are still needed in northern counties by the end of the week. Where peaches have been harvested and insecticides are no longer being applied in blocks that are near apples, OFM may be problematic.
Codling Moth Degree Day Timing Third Brood
Application and Insecticide Type
Standard Insecticides:
2300DD
2600DD
Rimon, Intrepid, Diamides:
2200DD
2500DD
DD
2200
2300
2600
2200
2400
2500
County Area –Southern
Past
Past
Past
Past
Past
Past
County Area –Northern
Past
8/26
9/8-9
Past
8/31
9/4-5
Grape
Grape (Grape insects): Very few grape berry moth are being seen in traps and little injury is present. The flight for grape root borer is just about over. This said, there is a possibility of a fifth generation coming in late September that may affect some late varieties if not yet harvested.
Grape Trap Captures 2015 
 Date
 GBM
 GRB
5/30
 1
6/6
 2
6/13
 4
6/20
 4
7/4
 7
7/11
 3
7/18
 1
7/25
 2
 10
8/1
 2
 17
8/8
 2
 8
8/16
 2
 5
8/21
 2
 3
Blueberry
Spotted Wing Drosophila (SWD): Spotted wing drosophila average trap captures increased over the past week in Atlantic County to 32.8% and 41.2 % in Burlington County. The total number of males captured in the traps increased to 1927. Additionally, this was the first week that we saw 100% of the trap sites in Burlington County positive with SWD. Percent positive traps dropped to 98% in Atlantic County. Since all fruit has been picked, no treatments are recommended, even for "clean up" sprays.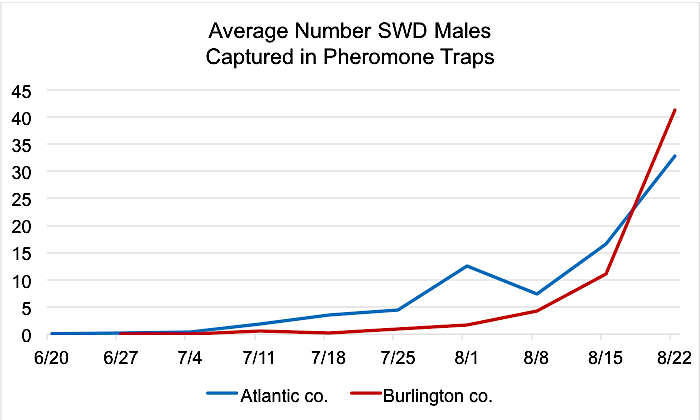 Sharp-nosed Leafhopper (SNLH): While trap captures, and the presence of adult leafhoppers has started in increase, it is still too early for the second generation treatment if using a single spray. If you are in a leafhopper area, and have plenty of stunt disease, then 2 applications may be helpful. In this case treatments could go on in about a week, followed by another treatment at peak flight.
Blueberry Trap Counts
Atlantic County
Week ending
CBFW
OB
BBM
SNLH
SWD
6/6
0.01
9.7
0
–
–
6/13
0.04
94.5
0
0
0
6/20
0.04
1634
0.04
0.14
0.08
6/27
0.05
2065
0.11
0.12
0.16
7/4
–
2013
0.34
0.10
0.49
7/11
–
2064
0.06
0.07
1.93
7/18
–
1527
0.09
0.04
3.51
7/25
597
0.02
0.04
4.40
8/1
180
0.04
0.08
12.58
8/8
92
0.01
0.19
7.4
8/15
14
0
0.17
16.5
8/22
0.38
32.8
Burlington County
Week ending
CBFW
OB
BBM
SNLH
SWD
6/6
0
–
–
–
–
6/13
0.7
8.7
0
0.05
–
6/20
0.26
1799
0.0
0.15
–
6/27
0.25
1700
0
0.10
0.11
7/4
0.19
864
0
0.05
0
7/11
–
814
0.04
0.09
0.6
7/18
–
320
0
0
0.3
7/25
–
215
0
0
0.9
8/1
–
68
0
0
1.69
8/8
–
21
0
0.03
4.3
8/15
–
10
0
0
11.0
8/22
0.06
41.2
Tree Fruit Trap Counts – Southern Counties
| | | | | | | | | | | |
| --- | --- | --- | --- | --- | --- | --- | --- | --- | --- | --- |
| Weekend | STLM | TABM-A | CM | AM | OFM-A | DWB | OFM-P | TABM-P | LPTB | PTB |
| 4/18 | 0 | – | – | – | 0 | – | 0 | – | – | – |
| 4/25 | 23 | – | – | – | 5 | – | 0 | – | – | – |
| 5/2 | 8 | – | – | – | 9 | – | 0 | – | – | – |
| 5/9 | 23 | 0 | 2 | | 86 | | 14 | 0 | 7 | |
| 5/16 | 1 | 2 | 4 | | 50 | | 8 | 4 | 15 | |
| 5/23 | 4 | 13 | 8 | | 1 | | 6 | 32 | 24 | |
| 5/30 | 2 | 14 | 5 | | 2 | 11 | 2 | 20 | 124 | |
| 6/6 | 2 | 31 | 2 | | 2 | 28 | 2 | 53 | 32 | |
| 6/13 | 16 | 16 | 5 | | 2 | 15 | 3 | 29 | 5 | |
| 6/20 | 23 | 11 | 1 | | 13 | 35 | 1 | 23 | 43 | 0 |
| 6/27 | 32 | 3 | 1 | | 14 | | 1 | 6 | 24 | 1 |
| 7/4 | 25 | 2 | 3 | | 17 | 35 | 3 | 2 | 13 | 3 |
| 7/11 | 70 | 0 | 10 | – | 14 | – | 2 | 2 | 13 | 4 |
| 7/18 | 11 | 0 | 4 | | 27 | 8 | 1 | 1 | 14 | 0 |
| 7/25 | 52 | 1 | 6 | | 26 | 11 | 3 | 2 | 10 | 6 |
| 8/1 | 33 | 2 | 5 | | 35 | 4 | 2 | 3 | 12 | 5 |
| 8/8 | 100 | 1 | 4 | | 42 | 10 | 3 | 3 | 14 | 9 |
| 8/15 | 25 | 2 | 9 | | 33 | 1 | 4 | 3 | 12 | 5 |
| 8/21 | 26 | 1 | 5 | | 61 | 4 | 3 | 1 | 23 | 8 |
Tree Fruit Trap Counts – Northern Counties
| | | | | | | | | | | | |
| --- | --- | --- | --- | --- | --- | --- | --- | --- | --- | --- | --- |
| Weekend | STLM | TABM-A | CM | AM | OFM-A | DWB | OBLR | OFM-P | TABM-P | LPTB | PTB |
| 4/18 | 0 | – | – | – | 0 | – | | 0 | – | – | – |
| 4/25 | 14 | – | – | – | 0 | – | – | 0 | – | – | – |
| 5/2 | 36 | – | – | – | 0 | – | – | 0.6 | – | – | – |
| 5/9 | 148 | | 0.0 | | 2.1 | | | 17.1 | 0.0 | | |
| 5/16 | 92 | 0.0 | 7.9 | | 3.5 | | | 19.1 | 0.0 | 0.0 | 0.0 |
| 5/23 | 31 | 3.6 | 7.3 | | 8.5 | 5.3 | 0.0 | 4.4 | 1.1 | 3.1 | 0.0 |
| 5/30 | 37 | 9.1 | 7.7 | | 5.5 | 13.3 | 0.0 | 2.1 | 4.9 | 21.2 | 0.0 |
| 6/6 | 7 | 39.7 | 5.7 | | 0.7 | 14.7 | 3.3 | 0.6 | 37.1 | 23.8 | 0.7 |
| 6/13 | 25 | 53.9 | 4.8 | | 0.3 | 3.0 | 33.7 | 0.1 | 57.9 | 13.7 | 1.7 |
| 6/20 | 131 | 56.8 | 3.5 | | 0.7 | 4.3 | 32.0 | 2.2 | 81.5 | 10.7 | 4.0 |
| 6/27 | 204 | 44.9 | 2.4 | | 1.0 | 4.7 | 14.0 | 5.5 | 63.4 | 14.1 | 3.0 |
| 7/4 | 164 | 25.7 | 0.6 | 0.0 | 1.3 | 2.0 | 0.0 | 1.4 | 22.4 | 4.2 | 3.0 |
| 7/11 | 218 | 8.0 | 1.2 | 0.0 | 1.7 | 3.0 | 0.0 | 1.8 | 11.6 | 4.5 | 1.0 |
| 7/18 | 68 | 2.2 | 3.9 | 0.0 | 1.3 | 4.7 | 0.0 | 1.3 | 3.0 | 5.3 | 0.3 |
| 7/25 | 57 | 1.9 | 3.4 | 0.0 | 2.9 | 4.7 | 0.0 | 2.2 | 1.9 | 4.7 | 0.7 |
| 8/1 | 62 | 1.6 | 5.6 | 0.0 | 2.7 | 1.0 | 0.7 | 2.8 | 2.6 | 2.4 | 0.3 |
| 8/8 | 33 | 2.1 | 3.0 | 0.0 | 5.5 | 1.3 | 1.0 | 1.4 | 2.2 | 2.2 | 0.0 |
| 8/15 | 29 | 3.9 | 2.5 | 0.0 | 6.5 | 0.3 | 1.3 | 1.9 | 6.2 | 1.7 | 0.1 |
| 8/22 | 78 | 3.1 | 3.2 | 0.0 | 10.5 | 1.0 | 0.7 | 1.7 | 5.0 | 1.5 | 0.3 |