Do you irrigate produce?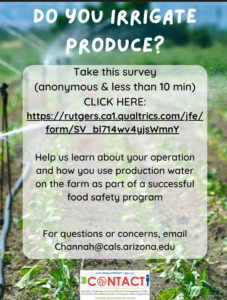 Have questions about Subpart E or agricultural water?
The On-Farm Food Safety Team is involved in a national survey to find out:
Does the produce industry understand the rule?
What areas of the rule are still unclear to the industry.
How preharvest water is used and treated on farms across the U.S.
This survey will help us get a better understanding of what you know and how extension educators can assist the industry. Please take a few minutes and fill out the survey by clicking on the image to the right.