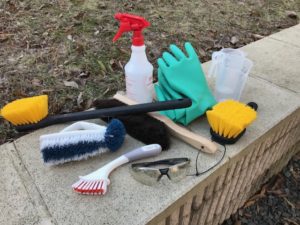 The chemical concentrations for the disinfection of high touch surfaces in retail markets during the COVID-19 pandemic are higher than we normally recommend. This concentration is for the disinfection of hard non-porous surfaces and is not for use on produce. Care must be taken to ensure the safety of yourself and your workers when using this concentration. Typical concentrations of bleach for sanitizing surfaces is 150 PPM, the disinfection recommended 1/3 cup bleach to 1 gallon of water is 1000 PPM. This concentration can be caustic to skin, airways, and produce.  Take the following precautions:
1. Clean the surface with detergent removing all visible debris and with a clean water rinse.
2. Conduct mixing in a well-ventilated area and increase ventilation when possible in areas of use, wear rubber gloves to protect skin from contact with the bleach and bleach solution.
-If skin comes in contact with the bleach or bleach solution rinse with water, if irritation continues call a doctor.
-If the bleach or bleach solution comes into contact with the eyes rinse with water for 15 minutes, if irritation continues call a doctor.
5. Chlorine PPM measurement strips typically used in packing houses do not go up to 1000 PPM.
-1000 PPM test strips are available online through Granger, Amazon, and restaurant supply stores.
-Test strips must be for FREE chlorine, not total chlorine.
-Test strips have expiration dates, make sure yours are not expired.
6. Follow bleach label instructions for contact time requirement. This is the amount of time your surface needs to stay wet with the bleach solution to ensure efficacy and is usually 1 minute or more.
7. Use containers of bleach that have been opened no longer than 30 days to ensure proper concentration.
8. Mixed concentrations of bleach should be stored at cool temperatures and away from direct light, used within a few days and retested for PPM prior to each use to ensure correct concentration.
9. Do not mix bleach with any other cleanser!