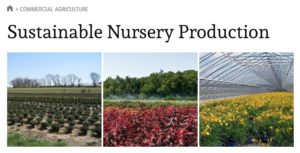 Please visit (click on links) the Rutgers Sustainable Nursery Production website for the following:
Join our Nursery Growers email list: please email Brandi Williams at brandiwi@co.cumberland.nj.us to stay connected during this time of COVID-19 social distancing and beyond. We will only email you important nursery industry related materials.
Voice your needs: please complete the 2020 Nursery Industry Survey to help the new nursery agents align their programmatic efforts to the needs of our communities.
Get information: view or download the missed 2020 South Jersey Nursery Meeting presentations (PDF).
Watch: visit the Rutgers NJAES video channel for educational content.
We need your input as this website is for you! Please feel free to contact us with ideas, suggestions, discrepancies, and thoughts on website improvements.
Please note: The Sustainable Nursery Production website will be rapidly expanding with new instructional videos, recorded webinar sessions, and commercial nursery production resources, serving as a key resource to our New Jersey grower communities. Additional sections such as commonly used forms will also be updated soon.
The new RCE nursery agents: Bill Errickson (Monmouth) and Timothy Waller (Cumberland) are focused on bringing new and updated Rutgers branded educational materials (fact-sheets, recommendations, videos, etc) to the forefront in an effort to better serve our growers.
Thank you for participating!
Contact Us:
Timothy J. Waller (website improvements)
County Agent
Rutgers Cooperative Extension of Cumberland County
291 Morton Ave.
Millville, NJ 08332
856-451-2800
twaller@njaes.rutgers.edu
Brandi Williams (Nursery Growers email-list)
Agriculture and Natural Resources Secretary
Rutgers Cooperative Extension of Cumberland County
291 Morton Ave.
Millville, NJ 08332
856-451-2800
brandiwi@co.cumberland.nj.us