Rutgers Cooperative Extension Agricultural Agents are hosting a 4-par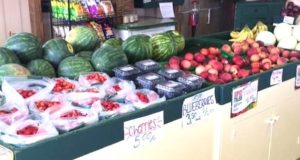 t webinar series, every Tuesday in May from 7:00-8:00PM to assist farmers with on-farm direct marketing operations to develop strategies for the 2020 season. This 4-part, weekly program will present and discuss the following topics:
Session 1 (May 5th): Maintaining Social Distancing and Safe Food Handling Practices: Guidance for Farm Markets – Wesley Kline, Ag Agent, RCE of Cumberland Co. and Meredith Melendez, Ag Agent, RCE of Mercer Co.
Session 2 (May 12th): Sales and Distribution Strategies – William Bamka, Ag Agent, RCE of Burlington Co. and Stephen Komar, Ag Agent, RCE of Sussex Co.
Session 3 (May 19th): U-Pick Operation Guidelines under COVID-19 – Meredith Melendez, Ag Agent, RCE of Mercer Co.
Session 4 (May 26th): Farmer Panel – Strategies We Are Using – (Farmers TBD) Moderators: Michelle Infante-Casella, Ag Agent, RCE of Gloucester County and Meredith Melendez, RCE of Mercer Co.
To Participate online for All 4 Events:
Use the link:  https://go.rutgers.edu/k0d59m8h
Or join by phone:
+1-650-429-3300 USA Toll
Access code: 226 795 368 # and then # again
We suggest visiting at least 15 minutes before the session start time to confirm system requirements 
For more events hosted by Rutgers Cooperative Extension check out the NJAES Events Calendar.