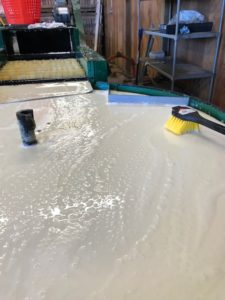 GAPs, third-party audits, and the FSMA Produce Safety Rule have a heavy focus on the cleaning and sanitation of surfaces that come in contact with produce. These surfaces can be harborage points for pathogens that are problematic for those that consume them, and for decay organisms that shorten your crops shelf life and marketability.
During the summer of 2019 we gathered a number of surface materials that are commonly used in packing houses, some of the surfaces are used as temporary fixes, others are for permanent use. Each of the surfaces was evaluated for cleanability and sanitation using common detergents and sanitizers. Swab sampling was used to assess "dirtiness" before cleaning, and then cleanliness after rinsing with water, after using a detergent, and again after using a sanitizer. We paid attention to how quickly the swab sampling numbers were reduced after each step.
What was abundantly clear was that the process is critical, no matter what detergent or sanitizer you use. The most effective process is:
1. Rinse all visible debris off of the surface with water
2. Use an appropriate detergent and scrub the surface, paying attention to all corners, crevices, joints, and screw/bolt heads
3. Rinsing the surface clear of detergent and dislodged debris
4. Use a sanitizer approved for food contact surfaces, follow the directions
Another common issue found was that visibly clean doesn't necessarily mean that the surface is clean enough to use. Just rinsing off with water can remove visible debris, and reduced the swab sampling number, but not enough to be considered clean. This was consistent across all the surfaces we evaluated in the study.  Surfaces evaluated included vinyl flooring, polyvinyl chloride (PVC), polypropylene (PP) surfaces, high density polyethylene (HDPE) tabletop, fiberglass reinforced panels (FRP), acrylic sheet (PPMA), styrene, extruded composite lumber (PET), wood surfaces, plastic household mats, and sheet metal painted with countertop paint. These surfaces were chosen for their ease of purchase locally and that many have been seen in use on farms across the state.
There are many sanitizers available on the market, including organic approved products. We evaluated chlorine, peroxyacetic acid, quaternary ammonium, and chlorine dioxide. All are labeled for use on food contact surfaces. Label instructions were followed and dip strips were used to ensure that the target PPM of each sanitizer was achieved. Using too little of a sanitizer is ineffective, and too much of a sanitizer can cause damage to the surface you are cleaning. Detergents evaluated were common dishwashing detergent, citric acid, ethoxylated coconut oil, and a foaming non-hazardous spray on detergent.
When the swab sampling numbers were evaluated we found that smooth surfaces cleaned the best and were more consistently sanitized. Surfaces with raised designs, grooves, or bumps did not have as significant reduction of swab sampling numbers as compared to the smooth surfaces. This inability to sanitize as effectively can allow for biofilms to form, providing a harborage point for disease. The surfaces that were most consistent in their ability to be cleaned and sanitized were fiberglass reinforced panels, commonly known as sanitary wall and often used in dairy milk houses, and extruded composite lumber. Surfaces painted with countertop paint did well initially, but repeated scrubbing allowed for scratches in the paint, and thinning of the surface over time. This resulted in a reduced ability to clean and sanitize effectively. Surfaces that consistently showed they were uncleanable were foil tape (sometimes used as a quick fix on surfaces), flexible plastic kitchen mats, uncoated wood surfaces, and vinyl flooring. All other evaluated surfaces had variations in the swab analysis results based on the detergent and sanitizer combinations. All detergents were effective at reducing the swab sampling numbers, with the foaming detergent having a more consistent effect over all of the surfaces tested. The sanitizers evaluated, when used according to product directions and on smooth surfaces, reduced the swab sampling numbers significantly.
Critical points to consider:
-Develop a regular cleaning schedule with a written standard operating procedure detailing the products used, how they are used, and the steps involved in cleaning and sanitizing the surfaces.
-Do a test run when you aren't pressed for time, take apart equipment, determine if you have the right supplies, and estimate the time it will take to properly clean and sanitize the equipment.
-Remember that the beginning of the season cleaning and sanitizing procedure will likely be more detailed than a during the season cleaning.
-Provide training for the person/s, and their backup, who will be responsible for cleaning and sanitizing postharvest surfaces.
-Only use sanitizers that are approved for food contact surfaces, and follow the label directions.
-When fixing packing equipment only use surfaces that are smooth, do not absorb water, and have not been used for other activities at the farm that may pose a contamination risk.
-Avoid cracks and crevices on your postharvest surfaces, these are difficult to clean and sanitize.
-When gloves are used workers must be trained on how to use them so they do not become a contamination source.
-Remove surface moisture in the packinghouse/area whenever possible using squeegees and fans.
-Remove culls from the packing area daily so they do not become an attractant for wildlife.
-Utilize a pest control program in the packing and storage areas, focusing on rodents and other wildlife intrusions.
-Remove as much soil as possible from harvested produce in the field, rather than in the packing area.
-Use new containers or containers that can be cleaned and/or sanitized to pack and display produce.
-Storage areas and coolers should be monitored for cleanliness, and be included in the rodent control program.
Visit the Rutgers On-Farm Food Safety website for more produce safety resources.
This work funded by USDA Specialty Crop Block Grant #16-SCBGP-NJ-0046