Date: February 9 – 10 – 11, 2016
Location: Harrah's Resort & Waterfront Conference Center, Atlantic City, New Jersey
Sponsors: Vegetable Growers' Association of NJ, New Jersey Blueberry Association, Garden State Wine Growers Association, Rutgers NJ Ag Experiment Station, & NJ Department of Ag

View 2016 Convention Information & Registration
View 2016 Educational Program
Trade show and educational sessions will open on Tuesday, February 9, at the Harrah's Resort & Waterfront Conference Center in Atlantic City, New Jersey. The show will feature exhibits and displays from many of the industry's suppliers and business associates. This year, the educational program features twenty-five sessions, including an all-day Farm Food Safety training session and Basil Workshop Session. Start 2016 off right: learn from the best, touch base with fellow growers, and earn re-certification credits, all in three jam-packed days.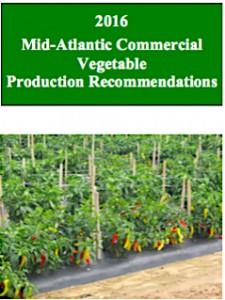 Daily passes for the trade show and educational sessions are available for $50 a person. NJ Vegetable Grower Association memberships are $100 for 2 people who may attend the trade show and educational sessions all day/every day. Click the Information & Registration link above for more information on hotel and meal reservations. Members receive the comprehensive 2016 Commercial Vegetable Production Recommendations.
In addition, the 2016 State Agricultural Convention will open with its regular business session on Wednesday, February 10, and continue on Thursday, February 11, 2016. The meeting will focus on developing and setting a policy agenda for the industry over the coming year through the resolutions process. The listening sessions, during which members of the agricultural industry can provide on-the-ground experiences and ideas for policy, will also be an important part of the convention. This year's listening sessions will highlight Locally Grown, as well as feature an Agricultural Agents Micro Speed Session, where county agents will provide an update on their current projects.