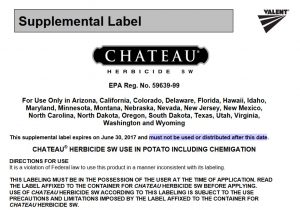 Chateau herbicide has a supplemental label for application to potatoes after hilling for preemergence suppression of various broadleaf weed species. This supplemental label will expire on June 30, 2017 and Chateau must not be used on potato after this date.
This supplemental label will not be renewed by Valent as the company is in the process of putting this supplemental label on the federal label. However, this use for potatoes will show up on the revised federal label when it reissues from the EPA.
We currently do not have a time frame for that but it probably will not before June 30. We are expecting that the revised federal label will be issued prior to the use season next year.