Broad mites (Polyphagotarsonemus latus) are an extremely small species of mites that affect many ornamental crops. At this point in the season they may be active in the greenhouse and should be included in all greenhouse IPM scouting programs. Broad mites are only 0.2 mm long, which is about half the size of a two-spotted spider mite. This makes them nearly impossible to spot with the naked eye during regular routine scouting and challenging to locate, even with the use of a hand lens. They have a translucent yellow-green appearance and a short but rapid life cycle ranging from 5 to 13 days.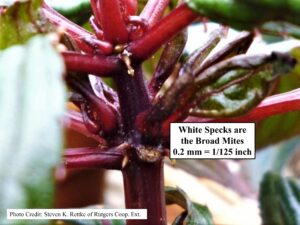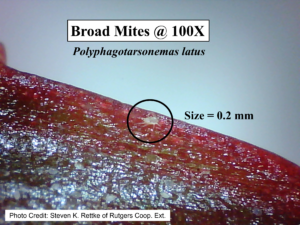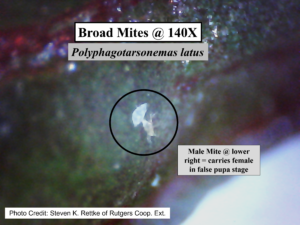 Broad mites feed on new growth and emit saliva that is toxic to the plants. This results in leaf curl, stunting, and deformity that may be mistaken for herbicide damage, physiological disorders, or a fungal pathogen. Broad mites tend to favor New Guinea impatiens, Sunpatiens, and dahlia in the greenhouse this time of year, though they may also cause damage to gerbera, ivy, lantana, standard impatiens, snapdragon, verbena, begonia, and zinnia. They can spread via plant-to-plant contact and may even hitchhike on whiteflies or aphids to reach a new destination.
Control can be achieved using miticides that are labeled specifically for broad mites, as some materials that are effective against two-spotted spider mites and spruce spider mites may not work as well on broad mites. Effective materials include Akari, Avid, Dormant Oil, Judo, Magus, Pylon, SanMite, Sirocco, Summer Oil, and Triact. Always follow the instructions on the label and take note of any sensitivities for use on specific plant species. Rotating chemical classes is also very important when treating broad mites because their rapid life cycle has the potential to lead to the development of resistance in a short period of time. Biological controls involving the release of predatory mites that feed on broad mites have also demonstrated success. Predatory mite species that are effective against broad mites include Amblyseius swirskii, Neoseiulus cucumeris, and N. californicus. Broad mites can be effectively managed in the greenhouse if they are detected early and correctly identified as part of a regular IPM program.
Additional Resources
Broad Mites Fact Sheet, University of Tennessee
https://go.rutgers.edu/zg9kdzod
Broad Mites in Ornamental Crops, Michigan State University
https://go.rutgers.edu/56gic7up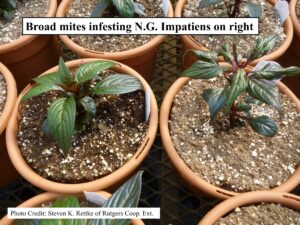 Dealing with Broad Mite, Greenhouse Product News
https://go.rutgers.edu/6doflkwc
Broad Mite is Becoming an Increasing Problem, Greenhouse Management