Date: February 19, 2014 9am to 3pm
Location: Elmer Grange, 535 Daretown Rd, Elmer, NJ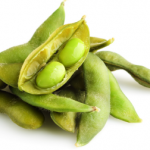 The 3rd annual Soybean Producers meeting will be held on February 19 from 9:00am to 3:00pm at the Elmer Grange at 535 Daretown Road, Elmer, NJ. Topics will include the new High Oleic Acid Soybeans, GMO Labeling, Biodiesel Update, and various pest management updates including the newly found Palmer Amaranth in NJ.
Breakfast and Lunch provided.
Application for Pesticide Credits has been made.
Call 609-585-6871 to register.

PROGRAM
9:00 – 9:30 am
Registration and Breakfast
9:30 – 9:45 am
Welcome – Brian Palmer, NJ Soybean Board Chairman
9:45 – 10:00 am
Douglas H. Fisher – Secretary, NJ Department of Agriculture
10:00 – 10:30 am
Weed Control – Palmer Amaranth – Mark Van Gessel, Ph.D., Professor and Extension Specialist Department of Plant and Soil Sciences, University of Delaware
10:30 – 10:45 am
Visit Display Tables & Coffee Break
10:45 – 11:30 am
Biotechnology labeling: is this really about the right to know? – David Green, President, Greenhouse Communications, LLC
11:30 – 12:15 pm
Biodiesel Update – Tom Verry, Director of Outreach and Development, National Biodiesel Board
12:15 – 1:00 pm
Hearty Networking Lunch
1:00 – 1:15 pm
Announcements/USB Update or USB Video – Bill Bibus, Vice Chairman, NJ Soybean Board
1:15 – 2:00 pm
The Potential with High Oleic Soybeans – Kayla Hedrick, Director of Oil Communications, United Soybean Board
2:00 – 3:00 pm
2013 Pest Problems and Management Strategies for 2014 – Mark Mayer, Supervising Entomologist, NJ Department of Agriculture; Bill Bamka, County Agricultural Agent; and David Lee, County Extension Dept. Head, County Agricultural Agent, Rutgers Cooperative Extension