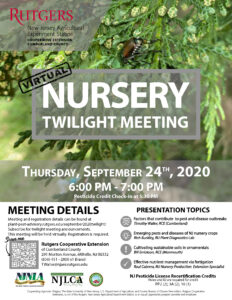 There is still time to register for the September 2020 Nursery Twilight Meeting (Virtual)
Registrations will be accepted until noon Thursday. Registration is required (Free).
This Thursday, September 24th, 2020
6:00-7:00 pm
please log-in between 5:30 and 5:50pm
Click here to register for the twilight meeting
Registration password: nursery
Click here to upload your government issued photo ID and Pesticide license prior to the meeting
---
In cooperation with the NJNLA, NJLCA, and NJCTGA
---
Instructions:
Register for event at the above link
Include your

pesticide license number

and

date of birth

 if you would like recertification credits
After registration you will receive a confirmation email with a link to the actual twilight meeting.
Upload a copy of your government issued photo ID at the link above

Upload a copy of your government issued photo ID and Pesticide License

(This is required to receive pesticide recertification credits)

 

 

If you click on the photo ID upload link using a smart phone/tablet you will have the option of simply taking a photo of your ID & pesticide license and uploading it directly into the system. Otherwise, you can scan a copy of your photoID & pesticide license into a computer and follow the directions at the upload link. If you are unable to upload documentation prior to the meeting we will work with you to verify your identity for NJDEP recertification credit purposes using the attendance roster to contact individuals that are seeking credits.

 

Please upload files of your photo ID and pesticide license named as: 

a)    "Last name_ First_ Photo ID"; and 

b)    "Last name_ First_ Pesticide License". 

Day-of: click the link in the registration confirmation email and select "join by browser-New" around 5:30pm
Day-of: Have your video on if you wish to obtain credits
---
Additional requirements for those seeking credits:  
Licensed applicators with a recertification period expiring October 31, 2020 will be given an exemption from the NJDEP online credit cap of 25% and are eligible for all credits, otherwise this exemption does not apply.

Required to be eligible to receive pesticide applicator recertification credits for this Twilight program:

Attend the entire meeting with live VIDEO feed on, seated in the center of the frame. Those without a webcam or phone attendees without a live video feed are not eligible to receive credits.

Attendees must participate throughout the entire session, staying to the end. Individuals are not eligible for credits if they arrive after the start of the first training topic or leave before the end of the last topic. Polls will be randomly scheduled, and attendance will be visually monitored to verify attendance.
---
Rutgers is dedicated to protecting your privacy and keeping your personal information safe.  Upon upload, your files will be encrypted and stored to Rutgers Connect. Your information will be kept strictly confidential; used solely to meet NJDEP ID verification protocol for recertification credit; and will not be used for any other purpose. Your files will be deleted within 60 days after the training event.