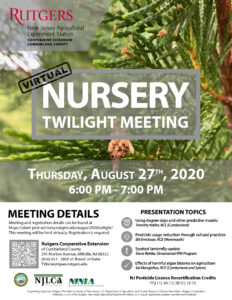 There is still time to register for the August 2020 Nursery Twilight Meeting (Virtual)
Registrations will be accepted until noon Thursday. Registration is required (Free event).
Click here to register for the twilight meeting
NJ Pesticide License Recertification credits obtained: PP2 (1); 3A (1); 3B (1); 10 (1)
Instructions:
Register for event at the above link
Include your pesticide license number and date of birth if you would like recertification credits
After registration you will receive a confirmation email with a link to the actual twilight meeting.
Day-of: Please use the "join by browser-New" feature (not the "Join Now" feature)
Day-of: Have your photo ID ready if you wish to obtain credits
Day-of:

You must have a video enabled device if you plan to acquire recertification credits. We must be able to see you. 
Thank you for your participation on this virtual front. 
Contact Tim Waller with any questions; twaller@njaes.rutgers.edu