Plastic mulch has been widely adopted by vegetable growers everywhere. The benefits of plastic mulch and raised beds have proven to improve crop quality and yields.
One practice some growers use, just after transplanting into plastic mulch, is to have workers place a small shovel full of soil around the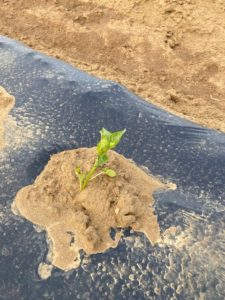 base of the plant and enough to seal the hole around the plant. This works best for transplants with tall stems – tomatoes, peppers, eggplants and cole crops.
One caution before using this beneficial cultural practice, is to understand the implications of herbicides applied between rows. If a herbicide was applied in row middles that is harmful to the crop planted into the plastic mulch, the transplant could be damaged, stunted or die. Read the herbicide label before using row middle soil to fill in the planting hole. If the row middle soil is safe to apply, then this practice is recommended.
Why is the tedious, time-consuming and laborious task so important?
There are a few reasons.
1. Placing soil around the transplant and planting hole will prevent water from puddling around the plant when significant rainfalls occur. Excessive puddling around the transplant can induce root and crown disease infections.
2. The extra soil will provide support and stability for the plant until roots can anchor the plant in the ground and the plants can be staked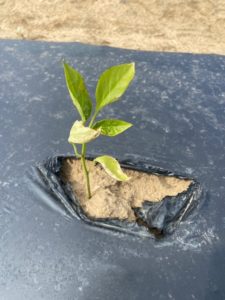 and tied.
3. By adding soil to seal-over the plastic mulch hole, the seal will prevent "venting" of hot air. This is especially important when plants are young, acclimating to outdoor weather and when hot and sunny days occur shortly after transplanting.
All reasons listed above will be important this week, as the weather conditions for Thursday call for rain in New Jersey and then flowed by temperatures in the 80s. Soil temperatures will rise and more critical, air temperatures under plastic mulch will be much higher than 80 degrees. The hot air venting on young, tender transplants will cause stress and can possibly lead to transplant death.
For these reasons, it is important to fill in and seal those transplant holes.