February 4 2022,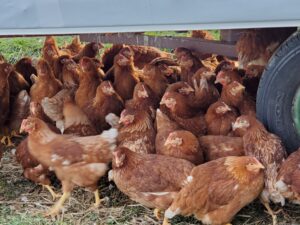 The United States Department of Agriculture's (USDA) Animal and Plant Health Inspection Service (APHIS) has confirmed findings of highly pathogenic avian influenza (HPAI) H5N1 in wild birds in South Carolina and North Carolina. Wild birds can be infected with HPAI and show no signs of illness. They can carry the disease to new areas when migrating. APHIS anticipates additional wild bird findings as robust wild bird sampling program continues into the spring. – For the full press release see the APHIS website. https://www.aphis.usda.gov/aphis/newsroom/stakeholder-info/sa_by_date/sa-2022/hpai-detections-sc-nc
NJ Poultry Owners: "Each year as spring arrives across the country, many people start or grow their backyard poultry flocks and this year in particular, the number of new flock keepers appears to be growing quickly. The United States Department of Agriculture's (USDA) Animal and Plant Health Inspection Service (APHIS) has an educational campaign that offers many resources to help protect the health of all poultry flocks. The Defend the Flock campaign focuses on sharing good biosecurity practices that, when practiced every day, every time, will help protect poultry from infectious diseases. Many new owners are starting from scratch and the best time to implement strong biosecurity is right from the start. The Defend the Flock Resource Center brings together biosecurity information and free resources from USDA and other experts, including growers, veterinarians, state agencies, scientists, and industry professionals. All the information you need to practice good biosecurity is available here, including checklists, resource guides, videos, and other tools." For detailed information on steps to take to protect your flock go to the USDA Defend The Flock Website.  https://www.aphis.usda.gov/aphis/newsroom/news/sa_by_date/sa-2020/backyard-poultry-keeper-resources
NJ PRODUCERS: WHERE TO REPORT SICK BIRDS OR UNEXPLAINED DEATHS
All poultry owners, whether commercial producers or backyard enthusiasts, need to report sick or unexplained bird deaths to State/Federal officials immediately. For small flocks, this can include deaths of one bird per day for two days in a row. For more information or to report sick or dead poultry contact:  New Jersey Department of Agriculture, Division of Animal Health 609-671-6400 or state.veterinarian@ag.nj.gov -OR- USDA APHIS Veterinary Services NJ Area Office 609-259-5260 or toll-free at 1-866-536-7593. To Report Sick/Dead Wild Birds, Wild Waterfowl, Raptors, Shorebirds or Gulls: USDA APHIS Wildlife Services, 908-735-5654 ext. 2 or call NJDEP Hotline, toll free, 877-WARN-DEP (877-927-6337). Check the State website for current updates regularly at:  https://www.nj.gov/agriculture/divisions/ah/diseases/avian_influenza.html#4
County Resources: If you are located in Salem, Cumberland, or Gloucester counties, consider joining the South Jersey Poultry Association, a group that meets virtually and holds on farm pasture walks related to the Defend The Flock Program. To enroll, take the survey here, and email Melissa Bravo at Salem County Cooperative Extension at melissa.bravo@njaes.rutgers.edu. The office also has a supply of biosecurity on farm posters provided by APHIS Veterinary Services and the Department of Agriculture.
Host a local meeting for neighbors. Host a virtual meeting and invite your local extension office Agents, staff and an APHIS PPQ Veterinarian, State of NJ Veterinarian or Fish, and U.S. Fish and Wildlife Biologist to meet with your group to discuss the Defend the Flock Program, biosecurity measures to protect poultry, steps to take to minimize contact with wild birds, receive updated information on past and current health alerts and talk about concerns regarding the impact to your operation. For assistance in connecting with speakers, contact Melissa Bravo at melissa.bravo@njaes.rutgers.edu.