Decision trees can ease the process of creating your farm food safety plan. Decision tree topics include all of the important components of a food safety plan.  Access them at the National GAPs Program website.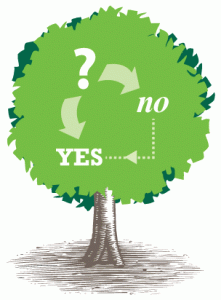 These decision tress will:
Help you identify risks and practices that reduce risks;
Prioritize the implementation of practices to use limited resources wisely;
Familiarize you with the terms and methods necessary to understand and follow requirements and expectations for food safety from buyers, farm markets, schools, and federal regulations.
Cornell, University of Minnesota, and University of Tennessee, developed these decision trees.