A Chambourcin wine tasting and evaluation meeting for New Jersey winemakers was held on November 10, 2022, at the Autumn Lake Winery, Williamstown, in Gloucester County. The notes below are based on individual observations of Chambourcin growers and winemakers, follow-on discussions, and related literature. The responses to the survey sent before the event are also summarized.
Participants: Auburn Road Winery, Autumn Lake Winery, Bellview Winery, Blue Cork Winery, Cedar Rose Winery, William Heritage Winery, Salem Oak Winery, Sharrott Winery and James Castelli Vineyards.
Variety: Chambourcin is a dark-berried, large-cluster, French-American hybrid variety known for better quality wine than most hybrid varieties in the French Loire region. The flavors of wines derived from 'Chambourcin' are described as black cherry, red fruit with black pepper, thyme, raspberry, and chocolate. Chambourcin lends itself to several wine styles, such as low-to medium-bodied dry red wine, semi-sweet to sweet red wine, dry to semi-sweet rose, sparkling, and also used as a base for formula wine such as Coeur d'Est. For its better cold-hardiness, overall less disease susceptibility, and high yield potential, Chambourcin is considered one of the most important varieties in New Jersey. Botrytis, Downy Mildew, and Bunch Rot are less of a problem in Chambourcin unless there is bird damage. It may require a good Powdery Mildew control program throughout the season. The leaf is prone to Sulfur burn, specifically if sprayed at a high rate and high temperature. The only certified Chambourcin clone carries the number 1257.
Harvest Parameters and Yield: Most wineries reported a yield of under 5 tons per acre, and few reported up to 8 tons. It can easily yield upward of 10 tons/acre; however, such a high yield can negatively impact sugar, color, and flavor accumulation. Cluster thinning, before veraison, is highly recommended to reduce the yield. A grower noted that the thinning also helps drop grapes' acidity on the vine. Another grower mentioned cane breakage in one specific year when they delayed thinning. One grower said they limit yield to 3-3.5 tons per acre as they seek premium products. Most vineyards harvested Chambourcin at total soluble sugar (TSS) greater than 23.5 Brix. It is a later ripening variety; however, to achieve full ripening, it is harvested as late as Cabernet Sauvignon in some growing seasons. Fruit thinning is one of the tools that producers have used to enhance the ripening. Also, proper canopy management and a balanced vine can help enhance fruit ripening.
Vineyards aim to harvest grapes at titratable acidity (TA) below six g/L of tartaric acid; however, in some years, it may be challenging to achieve that level. In some of the wines, the level of acidity was overly perceptible, though Chambourcin is well known for its sour taste associated with higher acidity. Few wineries mentioned that they adjusted the TA in the cellar. Potassium carbonate and calcium carbonate are commonly used deacidification agents in juice and wine. Deacidification requires some level of skill to get used to it. Ideally, laboratory trials should be conducted on samples of the juice or wine using several different rates before proceeding with the entire batch. To understand how one should proceed if planning to deacidify, please read the article by James Harbertson, Professor of Enology at Washington State University (see ref.)
Fermentation: Half of the respondents used the whole cluster while the remaining destemmed berries before the fermentation. In varieties such as Pinot Noir, the whole cluster, at least partially if not all, is highly suggested to enhance the tannin structures, using the varieties' unique flavors. It also applies in Chambourcin, where low course tannin imparts a supple and soft mouthfeel. However, the stems should be ripe and brown; green or under ripe stems (brown outside, green inside) can bring vegetal and herbal notes. A few wineries mentioned that they used extended maceration to enhance tannins. Tannins come from three different components of the grape cluster: the stems, the skin, and the grape seeds.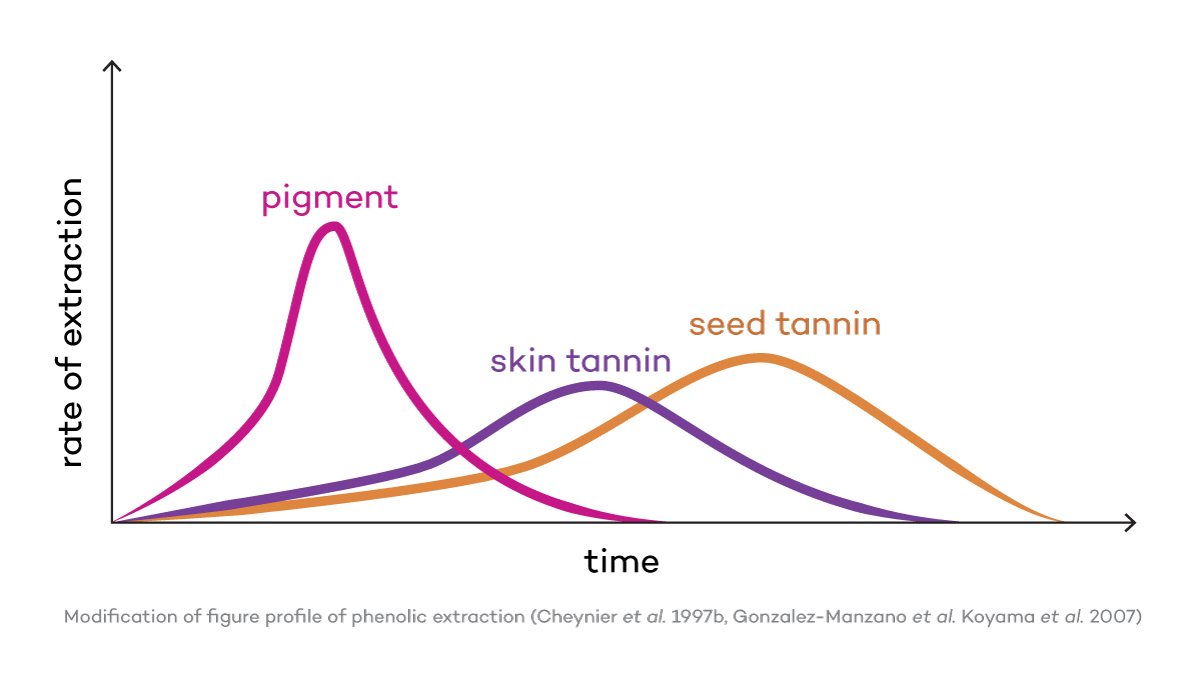 According to Dr. Gavin Sacks, Professor of Food Science at Cornell University, the pigments (anthocyanins) and skin tannins are extracted early in the fermentation process, and seed tannin is extracted slowly throughout the primary fermentation and extended maceration (see figure below). Extended maceration increases tannin polymerization, reducing smaller, non-polymerized tannins associated with the bitter taste. The addition of exogenous tannins to pre-, during- and after fermentation is also typical in Eastern wineries. In some cases, too long extended maceration could result in seed tannin overwhelming the wines. One winery mentioned blending 5% Cabernet Franc to 'round out tannins'.
Winemakers used a variety of yeasts; however, RC 212 was the most reported. RC 212 promotes color and tannin stabilization during fermentation, bringing out ripe cherry and bright, fruity, spicy characters (Lallemand Brewing). VITILEVURE 3001™ is cold-tolerant and implants exceptionally well, especially in musts that have undergone pre-fermentation cold maceration (cold-soaks). Alchemy II and IV are a blend of complementary yeast strains promoting intense red fruit characters such as cherry, red currant, raspberry, and pomegranate (Scott Labs). Others used D47 and BM 4×4 in combination with yeasts mentioned above. One winery used native fermentation. The duration of fermentation varied from 4 days to 2 weeks.
Given the notoriety of Chambourcin for high acidity, it was not surprising that all the respondents used full malolactic fermentation (MLF), mainly using the bacterial strain VP41. MLF provides a natural way of deacidification for cool-climate wine grapes. Malic acid may constitute up to half of the acidity of grape and wine. During the MLF, stronger acids, such as malic acid, are converted into weaker acids and can reduce the acidity by 1-3 g/L. The MLF also helps reduce green, vegetative flavors in the wine and alters mouthfeel by making it more viscous.
According to Molly Kelly, an Enology Extension Educator at Penn State University, adequate Nitrogen is necessary for successful fermentation. Total yeast assimilable Nitrogen (YAN) has the most impact on the fermentation speed compared to other compounds. YAN is affected by cultural practices such as fertilizer application (foliar vs. soil), irrigation, and canopy management. Low YAN, generally under 150 mg/L, can cause slow or stuck fermentation. Production of H2S is also associated with low YAN. One winery used a wine testing service at Virginia Tech to get the YAN numbers and then adjusted the numbers by adding the amino acids formulation 'Fermaid K' to fermentation that needed it. Another grower used Fermaid K in addition to DAP (Diammonium Phosphate). How N is assimilated by yeast is greatly affected by the source. For more information on why, when, and how to measure YAN, please use the link in the reference.
Overall, the wine quality was improved compared to those of the 2019 Chambourcin tasting. This could be due to an improved understanding of this variety and its winemaking compared to 5 or 10 years ago. Winemakers agreed that Chambourcin can be aged 8-10 years to turn it into an even more fascinating wine. There was a sense of confidence amongst winemakers that Chambourcin has the potential to be a more accepted and highly valued wine. As Jim Quarella of Bellview Winery pointed out, "Treat Chambourcin like a vinifera for the best results."
References
Coia L. and Ward D. 2018. Wine Grape Varieties of New Jersey. Rutgers NJAES publication.
Dami I. 2005. Influence of Crop Level on 'Chambourcin' Yield, Fruit Quality and Winter Hardiness under Midwestern United States Environmental Conditions". Proc. VIIth IS on Grapevine. Acta Hort. 689, ISHS 2005
Gardner D. Tasting Chambourcin: Part 1. Penn State Extension, Wine & Grape U. July 15, 2016.
Gardner D. Tasting Chambourcin: Part 2. Penn State Extension, Wine & Grape U. July 22, 2016.
Jackson RS. Chemical Constituents – Acids. Wine Science Principles and Applications. Fourth Ed. Page 357. Elsevier.
Kelly M. Why, When, and How to Measure YAN. Penn State Extension, Wine & Grape U. July 28, 2020.
Robinson J. and Harding J. Oxford Companion to Wine. Fourth Ed. Oxford Publications.
Harbertson and Henick-Kling T. Managing high acidity in grapes, must and wine. October 10, 2010. https://wine.wsu.edu/2010/10/13/managing-high-acidity/
The Australian Wine Research Institute. 2020. Achieving Successful Malolactic Fermentation. https://www.awri.com.au/wp-content/uploads/2011/06/Malolactic-fermentation.pdf
Previous Notes: