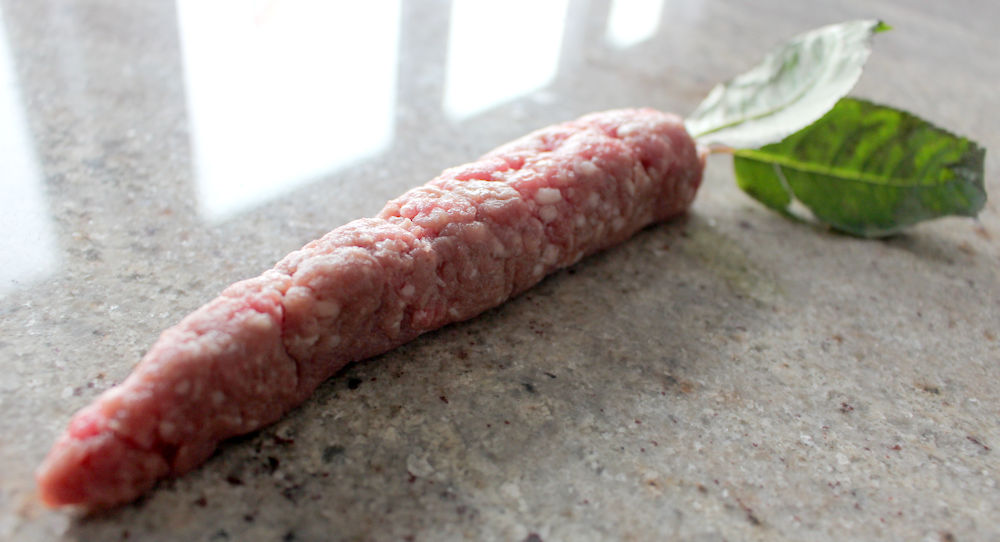 If you spend much time at the meat or dairy counter in your local supermarket, you will find some items that are not actually meat or milk-based. I am not taking a stand for or against those, just to say that for truth in advertising, when I think of meat I think of cows, pigs, and chickens. And when I think of milk, I think of a dairy cow. The link below is a tongue-in-cheek article about "real" meat: Introducing the Meat-Based Carrot
However, this idea of a meat-based vegetable is already being practiced by Arby's:
Arby's unveils carrot made of meat: The Marrot
---
We all know that Arby's has the meats. Now they have the "megetables."  Click on: Marrot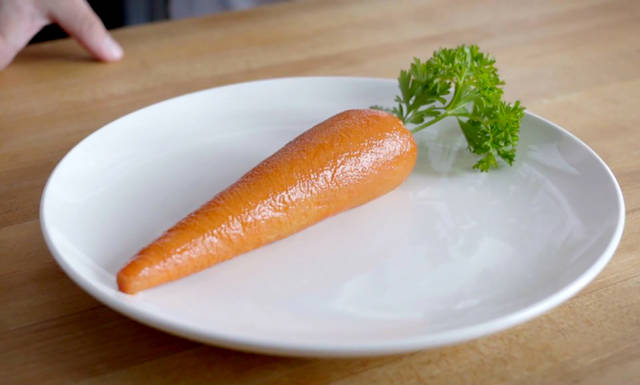 Arby's new food category, "meat vegetables," has its pilot offering: The Marrot.
It looks and tastes like a carrot, but it's made from turkey.
"Plant-based meats are the latest incarnation of making vegetables look like what Americans really want, which is great, tasty meat," Jim Taylor, Arby's chief marketing officer, said on the company's Inspire Brands website. "Universally, people know we're supposed to eat vegetables every day. But 90% of Americans don't eat the recommended amount. So, we said if others can make meat out of vegetables, why can't we make vegetables out of meat?"
To the end, Taylor called on Neville Craw, the company's vice president of Culinary Innovation. Neville took a whole turkey breast and trimmed it and rolled it into the shape of a carrot and put it into a plastic pouch and cooked it in a water bath for an hour. Then, he rolled the food in a carrot marinade and brûlée with maple syrup powder. Then, he oven roasted it for another hour. Add a sprig of parsley, and the Marrot is complete.
Wanna see?
Arby's says The Marrot has more than 70% of the recommended daily value of Vitamin A, with more than 30 grams of protein.
"We've never created anything like this," Neville said. "But most of the product development Arby's works on is new to the industry. That's the exciting part of this job; we're always innovating and hungry for more knowledge."
Insider got a hold of a Marrot for a taste test, and reports it is "shockingly reminiscent of a carrot in both taste and appearance. The turkey-based pseudo-vegetable had a sweet maple taste with earthy, herb-filled undertones. The only major difference between the Marrot and a traditional carrot was the crunch of the vegetable. Instead, Arby's megetable had a crisp, glazed coating with the tender interior of a well-prepared turkey breast."
The product is still in the early stages, and the Marrot sadly won't be available to hungry customers right away.
However, Craw told Insider he feels "pretty good" that the Marrot and other megetables have a good shot at showing up at Arby's franchises.
"No promises," Craw said. "But it's starting to look like it could be heading in that direction."
Chris Pastrick is a Tribune-Review digital producer.   The Tribune-Review coves Allegheny, Westmoreland, Armstrong and Butler counties in Southwestern Pennsylvania.  You can contact Chris at 412-320-7898, cpastrick@tribweb.com or via Twitter .