'Gloria' is a large, yellow-fleshed, freestone, non-melting peach that ripens around mid-August. This late blooming variety, developed by Rutgers New Jersey Agricultural Experiment Station is unique because of its very attractive color, low acidity, distinctive flavor, and very firm flesh. Previously we saw that letting 'Gloria' hang longer lets fruit get sweeter and larger. Firm flesh allows for relatively longer hang time on the tree after fruit has reached commercial maturity, providing greater flexibility in harvest scheduling and shipping to growers as well as buyers. We have estimated how long it is safe to let 'Gloria' fruit remain on the tree and in cold storage without affecting fruit quality. Studies in two orchards in Southern NJ indicated that;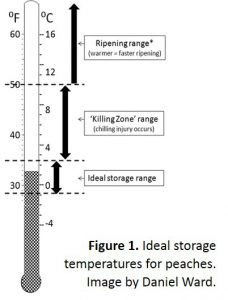 'Gloria' can hang on the tree for 5-7 days after they reach commercial maturity.
Hanging longer than 7 days reduces their storage life significantly and is not recommended.
The fruit will soften on the tree if left for 5-7 days after reaching commercial maturity, but only slowly.
Please note that the storage of 'Gloria' peaches, just like any other peaches, should be near 0 °C (32 °F) (Figure 1). Storage temperatures much greater than that may cause mealiness and browning around the pit, especially during extended storage.