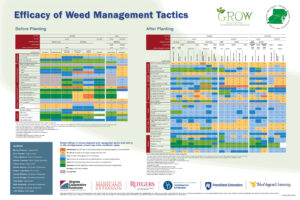 Integrated weed management (IWM) combines various methods to reduce or eliminate the effect of weeds on crop production over time, using a combination of practices that are most effective for solving specific weed issues. These weed management techniques form a "toolbox" in which each "tool" can be integrated into a weed management plan catered to the particular farm and problem. The toolbox includes preventative, biological, chemical, cultural, and mechanical strategies. IWM also considers the weed species present and tailors strategies for these species.
A collaborative effort led by Dr. Michael Flessner with Virginia Tec has been developed to compare the efficacy of various integrated weed management tactics before and after planting at reducing the impact of common troublesome weed species. Other universities of the Mid-Atlantic Region (Rutgers, West Virginia University, Penn State, University of Delaware, and University of Maryland) have also participated to this project.
A poster providing relative effectiveness of various integrated weed management tactics for summer annual crops is now available (https://agweedsci.spes.vt.edu/extension/publications/iwm.html) and will help growers identify the most effective tactics to manage weeds.