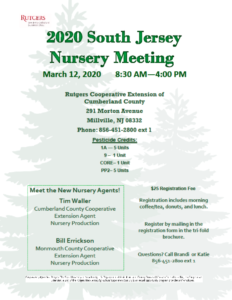 What:
2020 South Jersey Nursery Meeting
When:
March 12, 2020 8:30 A.M – 4:00 P.M. (registration deadline is this Thursday, March 5th)
Cost:
$25 per person. Registration fee covers morning coffee/tea, donuts, and lunch.
Where:
Rutgers Cooperative Extension of Cumberland County
291 Morton Ave. Millville, NJ 08332
Phone: 856-451-2800 ext 1
Fax: 856-451-4206
Pesticide Credits: CORE (1); PP2 (5); 1A (5); 9 (1)
This year's meeting will be an introduction of Tim Waller and Bill Errickson to the nursery industry here in South Jersey. The educational programming will include weed and pest updates, irrigation management, pesticide use /safety, and soil fertility presentations.
The deadline for registration is this Thursday, March 5th. Please register by mailing in the registration form in the attached tri-fold brochure or call Brandi or Katie (ext 1) for assistance. Due to the proximity of the meeting please call and let us know if you will be attending. 
Tri-fold brochure (print out registration form): Trifold 2020 Nursery Meeting
Meeting flyer: Flyer 2020 Nursery Meeting