Sweet Corn
European corn borer (ECB) moth numbers have decreased this past week such that only a handful of moths were captured.  There are no particular areas of higher activity, and  no map will appear in this edition. It is unlikely that we will realize any further injury from this pest this season.
The highest nightly ECB catches for the previous week are as follows:
| | |
| --- | --- |
| Cinnaminson   1 | Milltown   1 |
| Clinton   1 | Pedricktown   1 |
| Hillsborough   1 | Sergeantsville   1 |
Fall armyworm (FAW) infestations have declined somewhat recently.  Despite this, FAW continues to be a threat to remaining sweet corn plantings.  We should expect this pest to be with us at some level for the remainder of the sweet corn growing season.  There are few plantings left that are not yet silking.  However, where younger corn is still present, treat when FAW alone or in combination with ECB damage exceeds 12% plants infested.  FAW do not respond well to pyrethroid insecticides.  The most useful products are those in the IRAC group 28 class (Coragen, Exirel) or the IRAC group 5 class (Radiant, Entrust), or combination products including these classes.  See the 2016 Commercial Vegetable Recommendations Guide for insecticides effective against FAW.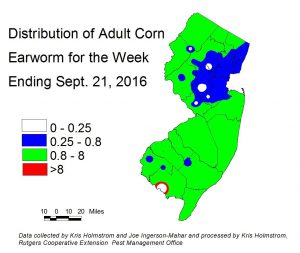 Corn earworm moth (CEW) activity has remained fairly stable over the past week, with just slightly higher catches in the northernmost areas  (see CEW map).  Catches are now rising and falling with night time temperatures.  Weekly averages remain at moderate levels.   It is advisable to incorporate materials into the spray program that have different modes of action from the pyrethroids.  This includes IRAC 28 materials like Coragen, Exirel and Besiege, as well as IRAC 5 (Radiant, Entrust (OMRI approved), and Blackhawk)).  Growers should be checking CEW activity frequently, and adjust spray schedules according to local activity.  On this map, green areas correspond to a 3-4 day silk spray schedule.
The highest nightly CEW catches for the previous week are as follows:
| | | |
| --- | --- | --- |
| Georgetown   5 | New Egypt   3 | Hackettstown   2 |
| Jones Island   4 | Beckett   2 | Little York   2 |
| Califon   3 | East Vineland   2 | Pedricktown   2 |
| Crosswicks   3 | Green Creek   2 | Sergeantsville   2 |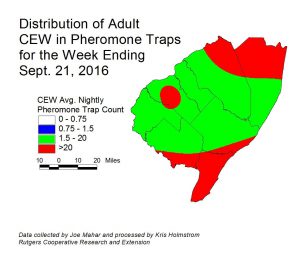 The limited CEW pheromone trap network registered declining catches in the south Jersey counties over the past week. Damaging CEW moth populations remain throughout southern NJ (see CEW pheromone map).  The low number of traps results in broad areas of color within the map.  It is critical that growers monitor local CEW moth numbers.  At present, this population constitutes a significant threat to silking corn.  On the pheromone trap map, the green areas correspond to a 3-4 day silk spray schedule, while red areas are 3-day.
The highest nightly CEW pheromone trap catches for the previous week are as follows:
| | |
| --- | --- |
| Monroe   27 | Woodstown   18 |
| Jobstown   25 |  East Vineland   9 |
| Green Creek   22 |  Berlin   3 |
For silking sweet corn, the following spray schedules are warranted.
Silking Spray Schedules*:
South – 3 days
Central – 3 days
North – 3-4 days
*These recommendations are based on regional catches.
Brown Marmorated Stinkbug (BMSB) 
BMSB numbers have fallen to very low levels, and no map will appear in this edition.  Only limited  parts of eastern Monmouth County had more than one stink bug.  This is the time of the summer when BMSB catches in light traps generally decline, while increasing in pheromone traps as the bugs begin to aggregate.  BMSB is still a threat to orchard crops at this time.
Pumpkins and Winter Squash
Down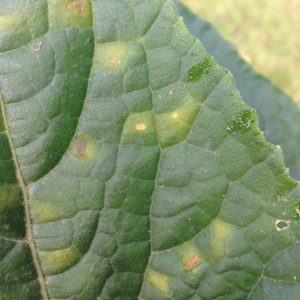 y mildew (DM) is present on cucumbers in all parts of  NJ (see photo at left).   All growers should be applying appropriate protectant fungicides plus DM specific materials to cucumbers  and cantaloupes at this time, and scouting frequently and preparing to make DM applications on pumpkins and winter squash.  As of 9/21/16, RCE personnel have still not been able to confirm DM on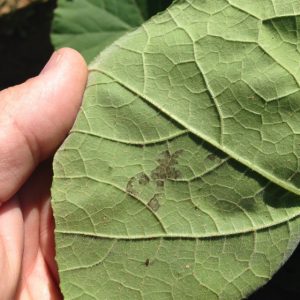 crops other than cucumber, and the only crop in the DM sentinel plot at Snyder Research Farm in Hunterdon county that is infected is cucumber.  DM lesions appear as yellow areas on the upper leaf surface with leaf veins making distinct borders to the lesions.  On the lower leaf surface, beneath the lesions, dark spores may be seen if conditions are moist (see photo at right).  For more information on the regional presence of DM as well as comprehensive, weekly forecasts, see the following website: http://cdm.ipmpipe.org.
Melon aphid is common in pumpkin fields at this time.  This pest is capable of producing sticky droppings that can accumulate on the surface of fruit.  This condition is unsightly and problematic, especially in u-pick situations, where yellow-jackets and other wasps are attracted to the sweet aphid droppings.  Melon aphid is somewhat difficult to control, and applications of synthetic pyrethroids will make the situation worse.  Consider treating if melon aphid colonies are found in more than one site in ten.  Newer materials such as Fulfill, Sivanto and Movento are more useful.  See the 2016 Commercial Vegetable Production Recommendations for more options.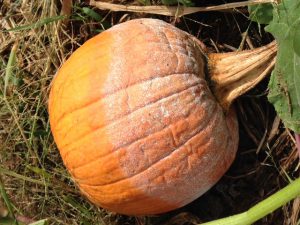 With the recent rains, fields that previously appeared free of Phytophthora are now showing signs of the disease.  In many fields, vines have senesced as fruit matured.  Thus, vine health is not an indicator of the presence of Phytophthora.  Fruit rot (see photo at right) is now the primary sign of infection.  Growers should consider prompt removal of healthy fruit from fields expressing these symptoms.  With more rain, the disease has the potential to spread. If possible, do not stack fruit to avoid the potential for individual fruit to rot above other healthy ones.
Tomatoes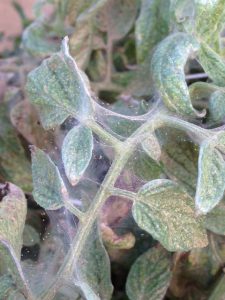 Two-spotted spider mite (TSSM) continues to be found in scouted fields.  Check fields regularly for the appearance of yellowing on leaves, whitish pin-spots or the presence of webbing (photo at right).  All are indications that TSSM may be present.  If TSSM is present, the actual mites will be found on the lower leaf surface.  It is best to treat for TSSM before the population gets too widespread.  Spot treatments may be adequate to achieve satisfactory control. There are a number of good miticides available, and growers should choose products based on efficacy and pre-harvest interval.  See the 2016 Commercial Vegetable Recommendations Guide for miticides effective against TSSM.
Pepper weevil
Routine monitoring of field traps is largely done. Traps at or near processing facilities will continue for another couple of weeks, but otherwise our concern of heavy field infestations in peppers is over.
Cole Crops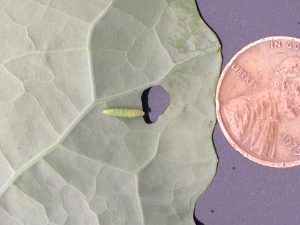 These crops are being attacked by a variety of caterpillar pests now, including imported cabbageworm (ICW), diamondback moth larvae (DBM), cabbage loopers, cross striped cabbageworm and in some cases, beet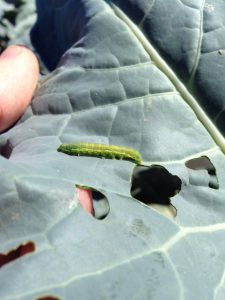 armyworm. Of all of these pests, ICW does the most immediate damage to developing tissue, but DBM (photo at left) and BAW (see photo at right) are resistant to synthetic pyrethroid insecticides. Be sure to look at the interior portions of all plants.  Sample 5 consecutive plants each, in 10 sites. If the number of infested plants with any larvae is above 5% with heads present, or >20% before head formation, consider treating. In leafy greens, consider treating if infested plants exceed 10%.  With DBM, it is important to use IRAC 28 (Coragen or similar) or IRAC 5 (Radiant or similar) insecticides to achieve adequate control.