Sweet Corn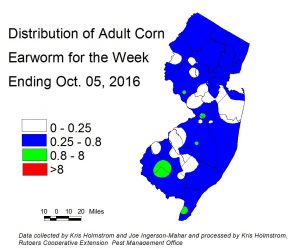 Corn earworm moth (CEW) activity has been fairly steady over the past week.  Patches of locally higher activity remain within a generally low population (see CEW map).  Catches are now rising and falling with night time temperatures.  It is advisable to incorporate materials into the spray program that have different modes of action from the pyrethroids.  This includes IRAC 28 materials like Coragen, Exirel and Besiege, as well as IRAC 5 (Radiant, Entrust (OMRI approved), and Blackhawk)).  Growers should be checking CEW activity frequently, and adjust spray schedules according to local activity.  On this map, green areas correspond to a 3-4 day silk spray schedule, while blue is 4-5 days.
The highest nightly CEW catches for the previous week are as follows:
| | | |
| --- | --- | --- |
| Centerton   3 | Denville   1 | Milford   1 |
| Green Creek   2 | Eldora   1 | New Egypt   1 |
| Blairstown   1 | Farmingdale   1 | Sergeantsville   1 |
| Califon   1 | Jones Island   1 | Tabernacle   1 |
With only a few CEW pheromone traps operating in southern NJ now, it is not possible to produce a useful map.  Generally, CEW catches in this network are in sharp decline, and indicate a reduced threat from this pest.
The highest nightly CEW pheromone trap catches for the previous week are as follows:
| | |
| --- | --- |
| East Vineland   10 | Jobstown   1 |
| Monroeville   8 | |
| Green Creek   4 | |
For silking sweet corn, the following spray schedules are warranted.
Silking Spray Schedules*:
South – 4 days
Central – 4-5 days
North – 5 days
*These recommendations are based on regional catches.
Pumpkins and Winter Squash
As mature pumpkin and winter squash fields decline, the threat of downy mildew (DM) to these crops also declines.  Many fields are now being harvested, or opened for U-Pick.  As DM is solely a foliar disease and foliage is now largely down, it's impact would be minimal on these crops.  It is still a threat to late planted cucumbers.  For more information on the regional presence of DM as well as comprehensive, weekly forecasts, see the following website: http://cdm.ipmpipe.org.  Growers with late plantings in which handles are not yet solid, may wish to continue protectant fungicides for powdery mildew while fruit rinds and handles harden off.
Cole Crops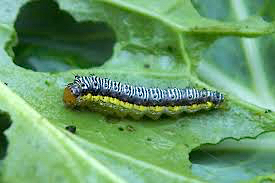 These crops are being attacked by a variety of caterpillar pests now including, from left to right above,  beet armyworm, diamondback moth larvae (DBM), imported cabbageworm (ICW), cross striped cabbageworm.  Cabbage looper is also present, but has declined of late in these plantings.  Of all of these pests, ICW does the most immediate damage to developing tissue, but DBM and BAW are resistant to synthetic pyrethroid insecticides. Be sure to look at the interior portions of all plants.  Sample 5 consecutive plants each, in 10 sites. If the number of infested plants with any larvae is above 5% with heads present, or >20% before head formation, consider treating. In leafy greens, consider treating if infested plants exceed 10%.  With DBM, it is important to use IRAC 28 (Coragen or similar) or IRAC 5 (Radiant or similar) insecticides to achieve adequate control.  Additionally, as plantings become over-mature, it is advisable to plow all residue down as soon as possible.  As these plantings are no longer treated with insecticide, they become a nursery for pests like DBM.  This pest can rapidly overwhelm a spray program when there is an untreated block adjacent to a viable block.
This is the last regular IPM Update of the season.  After this, IPM/pest related information will be published in response to specific threats or circumstances.  – KH