Allium Leaf Miner (ALM)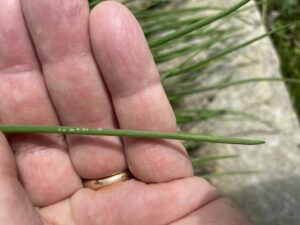 Allium leaf miner (ALM) adults (flies) continue to be captured on yellow sticky cards in chive plantings in Hunterdon and Mercer counties.  Numbers have declined somewhat this week (Milford, Hunterdon County 21, Princeton, Mercer County 13) relative to the week prior (Milford 27, Princeton 45), but it is still too soon to stay whether the first flight has peaked.  We will report the captures over the next two weeks, with hopes for signs that the flight is ending.
Growers should consider maintaining the control method of their choice at this time.  Affected crops include chives, scallions, garlic, onions and leeks.  Look for neat rows of white spots descending from the upper tips of allium leaves (photo at left).  Initial injury often occurs on the tallest leaves.  Under warmer, less breezy conditions, adults may be seen near the tips of leaves (see photo of adult at lower right).
Floating row covers, kept on until this flight ends will help minimize access to plants.  Insecticide applications targeting adults may be helpful as well, although frequency of applications is uncertain.  Spinosyn materials (Radiant, Entrust (OMRI approved)), pyrethroids (Mustang Maxx,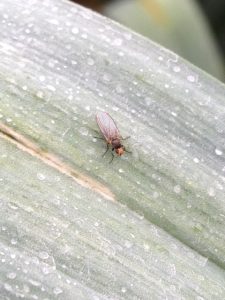 Warrior), neonicotinoids (Scorpion, Venom), the diamide Exirel (section 2ee recommendation) and the insect growth regulator Trigard are labeled for miner control.