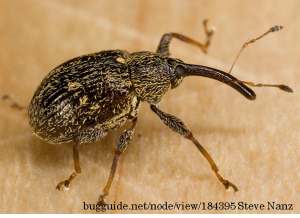 We have been fortunate in having almost no infested pepper fields since 2014 in southern New Jersey.  However, pepper weevil remains a potential threat to our pepper crop.  Despite new chemistries, insecticidal control of the weevil is not possible once an infestation is established.
Vegetable processing plants and repackers that bring in southern produce seem to be the primary source of pepper weevils arriving in the state.  To help reduce the incidence of pepper weevil infestations, farmers should plant peppers in fields at least 1 ½ miles from a processing facility.  If at all possible, no solanaceous crop should be planted within that 1 ½ mile radius since weevils can feed on and spread from tomatoes and eggplant.
Terminal markets may also be a significant source of weevils.  Last year the Vegetable IPM Program began a pilot project of hanging pheromone traps in farm markets where pepper produce has been brought in.  It remains to be seen if this is an effective means of monitoring for the presence of pepper weevil.
Pheromone traps will once again be available for farmers desiring to have these traps on their farms.  Contact Joe Ingerson-Mahar at mahar@njaes.rutgers.edu to obtain these traps.