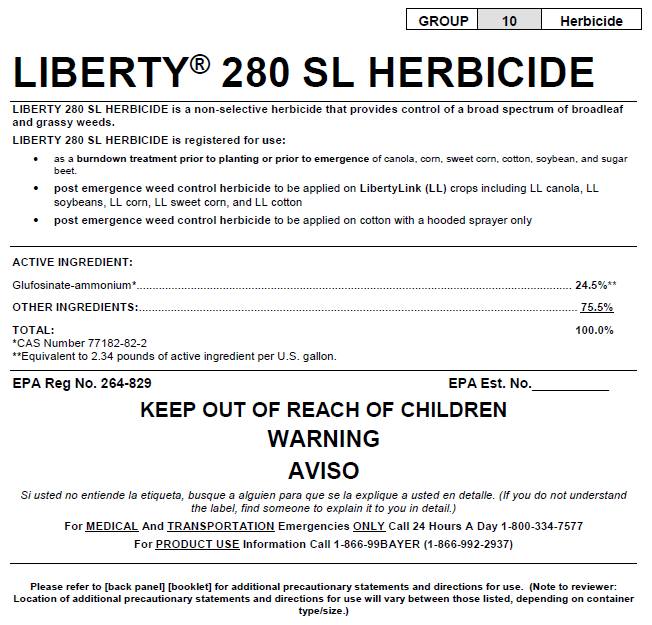 EPA has recently approved a new version of Liberty 280 SL label (see picture).
This new label includes increased LibertyLink (LL) corn rates, increased yearly maximum rates, and a sweet corn section for LL varieties.
Liberty 280 SL is a non-selective herbicide that provides control of a broad spectrum of broadleaf and grassy weed species. Liberty can be used as a burndown treatment prior to planting or prior to emergence of corn, sweet corn, or soybean, as a post-emergence herbicide to control emerged weeds in LL varieties of corn, sweet corn and soybean.
Liberty is a group 10 herbicide (glutamine synthetase inhibitor) that has contact activity and control emerged weeds at the time of application. Liberty provides good to excellent control of various annual grass species, including barnyardgrass, crabgrass, foxtail spp., and fall panicum. Excellent control (> 85%) of tough to control broadleaf weeds has also been notes for pigweed, cocklebur, jimsonweed, lambsquarters, marestail, common ragweed, and smartweed.
Applications of Liberty should be made between dawn and 2 hours before sunset to avoid the possibility of reduced weed control. As with all contact herbicides, uniform spray coverage is necessary to achieve consistent weed control (use at least 15 gal/A in normal situations, 20 gal/A if dense vegetation is present). For best results, apply when weeds are 2-4 inches tall. Apply ONLY over the top of LibertyLink corn, sweet corn, and soybean varieties.
The mention of trade names and rates is for educational purposes and does not imply endorsement by the author or the New Jersey Agricultural Experiment Station. Always defer to the product label for instructions on properly applying an herbicide.