As predicted, the kudzu bug has appeared in our region.  The first specimens have been found by a private consultant in southern Delaware and other specimens have been found in Harford, Maryland, northeast of Baltimore.  Since its discovery in Georgia in 2009, the bug has rapidly spread across the southeastern US, now from Louisiana to Maryland and Delaware.  It is beneficial in that it feeds on kudzu and may actually help suppress it, but it also feeds on soybeans and other legumes, and, like the brown marmorated stinkbug, invades homes and structures in large numbers. We have no confirmed sightings in New Jersey, as far as known.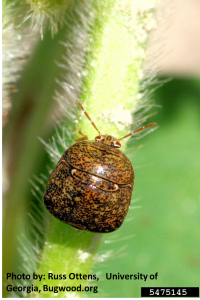 The specimens in Delaware were collected in early July, first from a pole lima bean planting and secondly, from a soybean field.   Joanne Whalen, University of Delaware IPM Specialist, has written an article on the kudzu bug and summarized its control options, available at http://extension.udel.edu/weeklycropupdate/?p=5952
The kudzu bug working group has developed a website http://www.kudzubug.org/identification.html  for current control recommendations, research, and distribution maps of the bug.
The adult kudzu bug is mottled brown and black, small, only about 1/4″ and is wider than long.  While related to stinkbugs, its overall shape is not like a typical stinkbug.  If you think you have found the kudzu bug in your crops or home, please notify your county agent, or contact Joe Ingerson-Mahar at mahar@njaes.rutgers.edu