Sweet Corn
European corn borer (ECB) moth catches have dropped to nearly nothing around the state.  Remaining infestations are in pre-tassel stage sweet corn.  Whorl is largely un-infested with ECB at this time.  ECB population maps will resume if second flight catches rise to high enough numbers.
The highest nightly trap catches of ECB for the week ending 6/30/21 are as follows:
Asbury   1
Downer   1
Milltown   1
Oldwick   1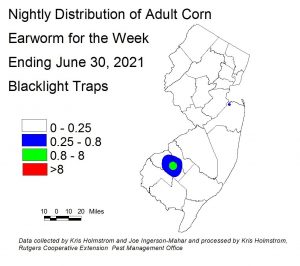 Corn earworm (CEW) moths captures from blacklight traps have declined further, and are quite low now, as we head into the slow period of the season.   Pheromone trap captures have also declined dramatically, with the exception of the Monroeville area of Gloucester County, which remains at moderate levels.   The number of pheromone traps deployed is much lower, resulting in much broader color bands on the map. It is also important to understand that pheromone traps are more sensitive than blacklight traps, and thresholds are adjusted to account for the higher catches typical of this trap type.  Silking  corn is at some risk of CEW infestation at this time.  On the blacklight map, green areas represent a 3-4 day silk spray schedule and blue represents a 4-5 day schedule.  On the pheromone map, green represents a 4-5 day schedule, and blue represents a 5-6 day schedule. Be sure to access information from this publication in the upcoming weeks to determine how frequently you should treat silking sweet corn to protect it from CEW infestation.
The highest nightly blacklight trap catches of CEW for the week ending 6/30/21 are as follows:
The highest nightly pheromone trap catches of CEW for the week ending 6/30/21 are as follows: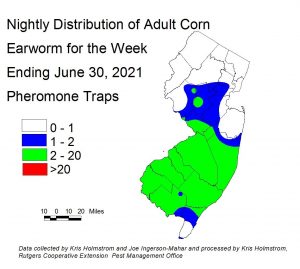 | | | |
| --- | --- | --- |
| Monroeville   26 | Woodstown   5 | East Vineland   3 |
| Pedricktown   7 | Beckett   4 | Oldwick   3 |
| Tabernacle   6 | Berlin   4 | South Branch   3 |
| Elm   5 | Crosswicks   4 | Eldora   2 |
Silking Spray Schedules*:
South – 4-5 days
Central – 5-6 days
North – 6 days
*These recommendations are based on regional catches.  Adhere to tighter spray schedules if indicated by local trap catches.  Synthetic pyrethroids alone should NOT be used for corn earworm (CEW) protection on silking corn, or for fall armyworm (FAW) management at any stage.  Control with these materials is very inconsistent.  Utilize materials in IRAC groups 5 and 28, or combination products that include IRAC group 28 for best control.  See the Sweet Corn section of the 2020-21 Commercial Vegetable Production Guide for selections.
Tomatoes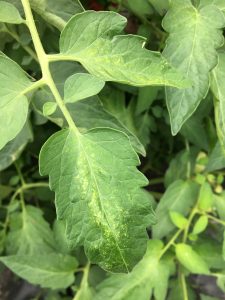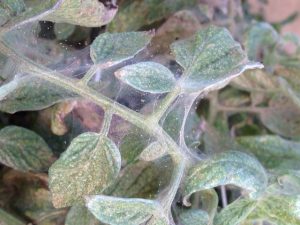 Two spotted spider mites (TSSM) are present in several scouted NJ tomato fields and high tunnels.  Recent extremely hot weather is conducive to TSSM population increase.   Signs of infestation  include small, white "pin-spots" appearing on the upper surface of individual leaves (see photo at left).  Mites will be feeding on the lower surface of leaves displaying these markings.  If untreated, mite populations can increase dramatically, and may result in desiccation of foliage.  Larger populations will produce webbing that encloses entire leaves (see photo at right).   It is better to treat TSSM quickly after discovering them, as larger populations become harder to manage.  There are a number of effective miticides listed in the Tomato Section of the 2020-21 Commercial Vegetable Production Guide, including some that have very short pre-harvest intervals.
Peppers
Pepper weevil – We have still captured no weevils in pheromone traps, and we are not aware of any fields having infestations.    A new fact sheet is now available for anyone interested in monitoring for pepper weevils on their own:  FS1330: Monitoring and Management of Pepper Weevil in New Jersey (Rutgers NJAES).
Cucurbit Downy Mildew
The cucurbit downy mildew (CDM) sentinel plot at Snyder Farm in Hunterdon County remains uninfected as of 6/30/21.  Note however, that Dr. Andy Wyenandt has reported CDM on cucumbers (6/16/21) and cantaloupes (6/21/21) in Salem County NJ.  Recent hot, dry conditions have not favored CDM, but this situation may change with rain in the forecast.   For regional information on this important disease, see the Cucurbit Downy Mildew Forecast webpage:  http://cdm.ipmpipe.org/.   It is advisable that all growers in southern counties treat preventively for CDM on cucumbers and muskmelons.  Growers in norther counties should scout fields no less than twice a week.  As yet, there have been no reports in the region of CDM affecting any other cucurbit crops.  This is important, as pumpkins and winter squash are now emerging in recently planted fields.
Pumpkins and Winter Squash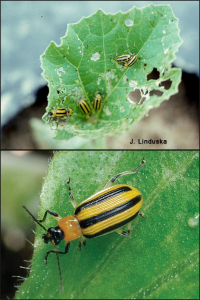 With pumpkin and related crop fields now emerging, it is important to remember that the initial threat will be from striped cucumber beetles (photo at left by J. Linduska).  Most seeds now come with a pre-applied insecticide to limit injury from this pest.  However, growers should be alert to the possibility that untreated seeds may be fed upon heavily by cucumber beetles, resulting in bacterial wilt in a few weeks, or outright death of seedlings from excessive feeding.  Scout 5 plants each in 10 random locations.  If beetles are found to be feeding at more than two sites, consider an insecticide application to limit damage. See the Pumpkin and Winter Squash section of the 2020-21 Commercial Vegetable Production Guide for labeled insecticides.  It is unlikely that this situation will occur if seeds were pre-treated.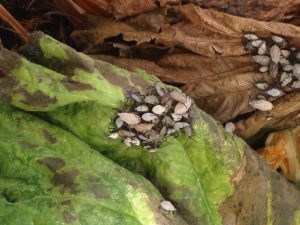 Squash bugs are also appearing in pumpkin fields at this time.  Plants that are beyond the 4 true leaf stage are at minimal risk from feeding by squash bugs, and treatment is rarely necessary.  Nymphs hatch from copper colored egg masses, and change form dramatically as they go through several molts.  Starting as clusters of small greenish nymphs (left), they ultimately become elongated and light gray in color (right).
Brown marmorated stink bug (BMSB)
BMSB trap catches remain very low.  No map will appear in this addition.