Sweet Corn
European corn borer (ECB) moth catches in black light traps remain very low.  There will be no map in this edition due to insufficient catch.  Incidents of feeding are declining as infested plantings proceed to silk and whorl stage corn has not been exposed to egg laying.  We should be in a period relatively free of whorl infestations now.  The next whorl infesting pest will be fall armyworm (FAW).  As yet, no infestation of this pest have been detected.   Once plants hit full tassel, ECB larvae will move downward on the stalk and re-enter the plant near the area where ears are forming.  This can result in direct injury to the ear.  Growers should consider an insecticide application at the full tassel stage to target ECB larvae as they migrate downward.  This application can eliminate larvae that have escaped any earlier insecticide applications.
The highest nightly trap catches of ECB for the week ending 6/27/18 are as follows:
| | |
| --- | --- |
| Blairstown   1 | Port Colden   1 |
| Denville   1 | South Branch   1 |
| Green Creek   1 | |
| Hackettstown   1 | |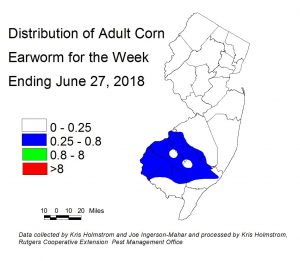 Corn earworm (CEW) moths continue to be captured, and southern NJ catches have increased in frequency just slightly (see CEW blacklight map at left) .  While these numbers remain low, plantings now at or near silk stage are at risk of infestation in these areas.  In addition, the CEW pheromone trap network in the southern counties is still showing low to moderate catches (see CEW pheromone trap map at lower right).   The pheromone network trap is much more sensitive than the blacklight trap, particularly for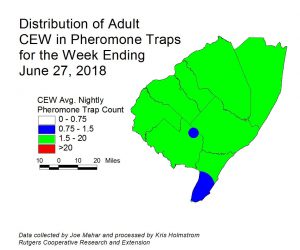 this June flight.  For this reason, an increase in moths in the pheromone traps does not directly correspond to the schedule prescribed by the blacklight traps.   Additionally, there are many fewer pheromone traps than blacklight traps.  This results in much broader colored patches on the pheromone maps.  The green area on the pheromone map indicates a 4-5 day silk spray schedule.
The highest nightly black light trap catches of CEW for the week ending 6/27/18 are as follows:
| | | | |
| --- | --- | --- | --- |
| Centerton   1 | Elm   1 | Jobstown   1 | Springdale   1 |
| Cinnaminson   1 | Folsom   1 | Medford   1 | Woodstown   1 |
| East Vineland   1 | Green Creek   1 | Pedricktown   1 | |
The highest nightly pheromone trap catches of CEW for the week ending 6/27/18 are as follows:
| | | | |
| --- | --- | --- | --- |
| Woodstown   12 | Beckett   4 | Pedricktown   2 | Green Creek   1 |
| Elm   8 | Berlin   3 | Belvidere (Warren Co)   1 | |
| Monroeville   6 | Jobstown   2 | East Vineland   1 | |
Silking Spray Schedules*:
South – 4-5 days
Central – 6-7 days
North – 7 days
*These recommendations are based on regional catches.  Adhere to tighter spray schedules if indicated by local trap catches.
Pepper Weevil
No pepper weevils were trapped this week.  As far as known, there are no infested fields at this time.
Tomatoes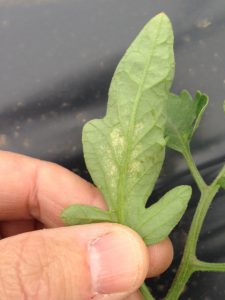 Field scouting of outdoor and high tunnel tomatoes continues.  Two spotted spider mites (TSSM) have begun to appear in some tunnels. This pest is often first detected by the white pin-spots that develop on the upper leaf surface as the mites feed below.  Turning the leaf over; mites are visible on the lower surface (see photo at left).  See the tomato section of the 2018 Commercial Vegetable Recommendations Guide for appropriate materials.
As we progress from June into July, it is worth noting that this is typically the time of the season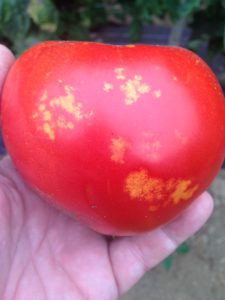 when our native brown stinkbugs become active; seeking sites on which to feed and lay eggs.  This can be an economic problem for our field tomato plantings.  Stink bug feeding results in pale blotches on green fruit, that turn yellow as the fruit ripen to red (see photo at right).  Picking crews often notice this damage first, as they see the greatest volume of overall fruit.  If this damage is increasing, and/or adults, nymphs or egg masses are occurring in scouting samples, consider treating.  See the tomato section of the 2018 Commercial Vegetable Recommendations Guide for appropriate materials.
Brown marmorated stink bug (BMSB)
BMSB catches in black light traps are very low everywhere except for minor catches in the central counties.  No map will appear in this edition.  Although this pest has not had serious impact on vegetable crops like peppers in recent years, it is still a significant pest of tree fruits.
The highest nightly trap catches of BMSB for the week ending 6/27/18 are as follows:
| | |
| --- | --- |
| New Egypt   2 | Farmingdale   1 |
| Tabernacle   2 | Georgetown  1 |
| Centerton   1 | Green Creek   1 |
| Eldora   1 | Springdale   1 |
Potato Leafhopper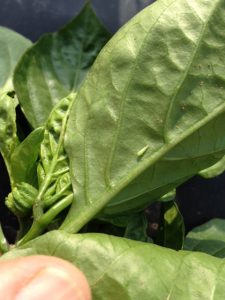 Potato leafhopper (PLH) has begun to appear and cause damage on crops such as potato and snap beans.  This pest causes a distinctive downward curl of leaf margins on affected crops.  If allowed to continue feeding, leaves begin to turn brown; a condition known as "hopper burn".  Once this occurs, plants will stop growing and yields will be limited.   It is critical that beans be monitored regularly for the presence of PLH. If a sweep net is available, consider treating if more than 100 nymphs and adults are present in 20 sweeps of pre-bloom stage plants.  This threshold increases to 250 during bloom and to 500 per 20 sweeps during pod development.  If no sweep net is available, check plants in 10 random field locations and consider treating if adults and nymphs are found throughout.  Adults are pale green (see photo at left), and will fly out from foliage when disturbed and immediately fly back into the plant canopy.  Nymphs are wingless and bright green and may be found on the underside of leaves.
Pumpkins and Winter Squash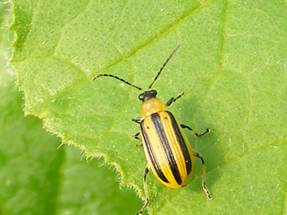 Pumpkins are now up in many areas.  It is critical that these fields be scouted while plants are in the 0-4 true leaf stage.  Striped cucumber beetle (see photo at left) is the most serious pest of these crops in this stage, not only because they cause direct injury to seed leaves and true leaves, but because at this stage, the beetles can transmit the bacteria that cause in bacterial wilt.  Check 5 plants each in 10 random locations.  If beetles are found actively feeding in 2 or more sites, consider an insecticide application to reduce the likelihood of bacterial wilt setting in later.  Many pumpkin and winter squash seeds are purchased with a seed treatment that includes a neonicotinoid insecticide.  In this case, cucumber beetle feeding should be seriously limited for the first 2-3 weeks of  growth.  This is typically long enough to get the plants close to the stage where vines begin to run or bush out.  At this point, it is much more difficult for the plants to acquire a large enough bacterial load from the beetles to cause wilt.  Organic growers of these crops should consider covering plants from emergence through just before vine run.  This should limit beetle feeding and permit bee access to blossoms when the covers come off.