Sweet Corn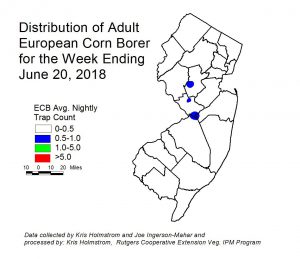 European corn borer (ECB) moth catches in black light traps are very low.  The highest activity now in north central areas (see ECB map).   Feeding continues to increase, although infestations are spotty.   Look for the characteristic "shot-hole" type of feeding (photo below at right) and consider treating when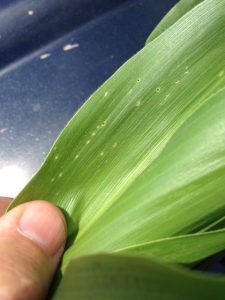 infested plants exceed 12% in a 50 plant sample.  As infested plants proceed to the pre-tassel stage, live larvae and damage may be found in the emerging tassels (see bottom photo at left).  Once plants hit full tassel, ECB larvae will move downward on the stalk and re-enter the plant near the area where ears are forming.  This can result in direct injury to the ear.  Growers should consider an insecticide application at the full tassel stage to target ECB larvae as they migrate downward.  This application can eliminate larvae that have escaped any earlier insecticide applications.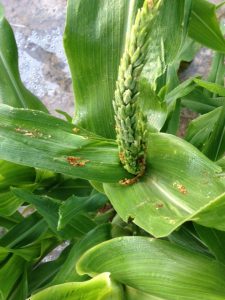 The highest nightly trap catches of ECB for the week ending 6/20/18 are as follows:
| | | |
| --- | --- | --- |
| Allentown   1 | Crosswicks   1 | South Branch   1 |
| Belvidere   1 | Hillsborough   1 | |
| Blairstown   1 | Princeton   1 | |
| Clinton   1 | Sergeantsville   1 | |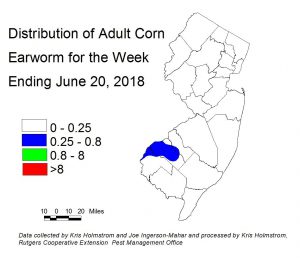 Corn earworm (CEW) moths continue to be captured, although catches have declined slightly (see CEW blacklight map at left) .  While these numbers are low, early plantings now at or near silk stage are at elevated risk of infestation.  In addition, the CEW pheromone trap network in the southern counties is still showing low to moderate catches (see CEW pheromone trap map at lower right).   The pheromone network trap is much more sensitive than the blacklight trap, particularly for this June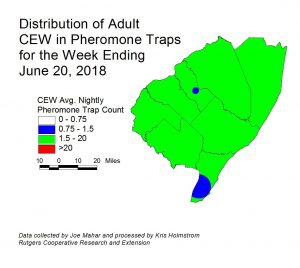 flight.  For this reason, an increase in moths in the pheromone traps does not directly correspond to the schedule prescribed by the blacklight traps.   Additionally, there are many fewer pheromone traps than blacklight traps.  This results in much broader colored patches on the pheromone maps.  The green area on the pheromone map indicates a 4-5 day silk spray schedule.
The highest nightly black light trap catches of CEW for the week ending 6/20/18 are as follows:
| | | |
| --- | --- | --- |
| Downer   1 | Medford   1 | Springdale   1 |
| Green Creek  1 | Pedricktown   1 | Tabernacle   1 |
The highest nightly pheromone trap catches of CEW for the week ending 6/20/18 are as follows:
| | | | |
| --- | --- | --- | --- |
| Monroeville   19 | Woodstown   9 | East Vineland   4 | Jobstown   2 |
| Elm   14 | Beckett   5 | Pedricktown   3 | Belvidere   2 |
Silking Spray Schedules*:
South – 4-5 days
Central – 6-7 days
North – 6-7 days
*These recommendations are based on regional catches.  Adhere to tighter spray schedules if indicated by local trap catches.
Pepper Weevil
No pepper weevils were trapped this week.  As far as known, there are no infested fields at this time.
Tomatoes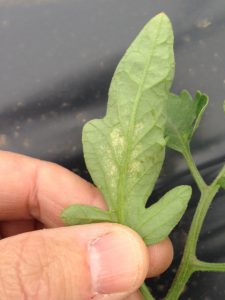 Field scouting of outdoor and high tunnel tomatoes continues.  Two spotted spider mites (TSSM) have begun to appear in some tunnels. This pest is often first detected by the white pin-spots that develop on the upper leaf surface as the mites feed below.  Turning the leaf over; mites are visible on the lower surface (see photo at left).  See the tomato section of the 2018 Commercial Vegetable Recommendations Guide for appropriate materials.
Brown marmorated stink bug (BMSB)
BMSB catches in black light traps are low everywhere except for a small increase in Monmouth County this past week and no map will appear in this edition.  Although this pest has not had serious impact on vegetable crops like peppers in recent years, it is still a significant pest of tree fruits.
The highest nightly trap catches of BMSB for the week ending 6/20/18 are as follows:
| | |
| --- | --- |
| New Egypt   5 | Georgetown   1 |
| Farmingdale   3 | Old Bridge   1 |
| Green Creek   2 | Pedricktown   1 |
| Belvidere   1 | Sparta   1 |
Potato Leafhopper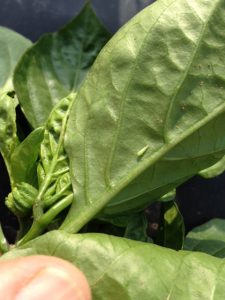 Potato leafhopper (PLH) has begun to appear and cause damage on crops such as potato and snap beans.  This pest causes a distinctive downward curl of leaf margins on affected crops.  If allowed to continue feeding, leaves begin to turn brown; a condition known as "hopper burn".  Once this occurs, plants will stop growing and yields will be limited.   It is critical that beans be monitored regularly for the presence of PLH. If a sweep net is available, consider treating if more than 100 nymphs and adults are present in 20 sweeps of pre-bloom stage plants.  This threshold increases to 250 during bloom and to 500 per 20 sweeps during pod development.  If no sweep net is available, check plants in 10 random field locations and consider treating if adults and nymphs are found throughout.  Adults are pale green (see photo at left), and will fly out from foliage when disturbed and immediately fly back into the plant canopy.  Nymphs are wingless and bright green and may be found on the underside of leaves.