Note:  This is the last regular edition of the Vegetable IPM Update for the season.  We will provide additional updates on specific pest/disease issues as they arise.
Sweet Corn
Corn earworm (CEW) moth catches remain at moderate levels.  Overall, CEW numbers represent a normal early fall population.  Moth counts will decline with cool night temperatures (especially those forecast for the upcoming weekend), but look for rebounds when nighttime temperatures exceed 60F.   Economically damaging populations of this pest are present throughout the state, and all remaining silk stage plantings are at risk of crop injury if strict spray schedules are not observed.
The highest nightly CEW pheromone trap catches for the week ending 10/02/19 are as follows:
| | | | |
| --- | --- | --- | --- |
| Green Creek  60 |  Berlin   25 |  Snyder Farm   4 |  Matawan   1 |
| Eldora   58 | Folsom   10 | Springdale   4 | Monroeville   1 |
| Beckett   32 | Woodstown   6 | East Vineland   2 | |
Corn leaf aphid populations have been a problem in late sweet corn.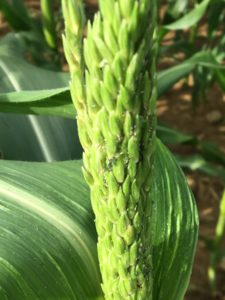 These aphids (photo at right) may be found in the emerged tassel while scouting for other insects.  These insects are not controlled with IRAC group 5 or 28 insecticides, and pyrethroids are ineffective at killing aphids but very good at killing beneficial insects.  Therefore, if corn leaf aphids are found in tassels, it is advisable to add the IRAC group 4a material Assail in with the first silk application for worm control.
Silking Spray Schedules*:
South – 3 days
Central – 3 days
North – 3-4 days
*These recommendations are based on regional catches.  Adhere to tighter spray schedules if indicated by local trap catches.  To repeat: Synthetic pyrethroids alone should NOT be used for corn earworm (CEW) protection on silking corn, or for fall armyworm (FAW) management at any stage.  Control with these materials is very inconsistent.
Peppers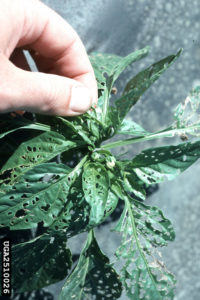 Pheromone traps established for beet armyworm (BAW) in the southern counties continue catching adults.  This week's average nightly catches include:  Jones Island – 87,  East Vineland – 37,  Pedricktown – 12, Folsom – 6.
BAW can reach levels that result in damage to pepper plants, and injury has been reported in southwestern NJ.  Growers in the southern counties should be alert for the appearance of severely defoliated terminals (see photo above at left) on pepper plants.  Small BAW larvae (photo at right) feed on these leaves before turning to fruit as they increase in size.  As with FAW, beet armyworm is resistant to pyrethroid insecticides.  Insecticides now recommended for CEW and FAW control are useful for BAW management.
Pumpkins and Winter Squash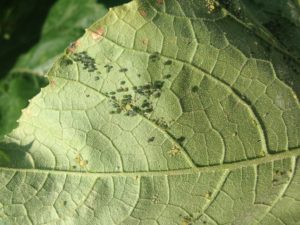 This is the time of the season when melon aphid (see photo at left) can appear in pumpkin fields.  While this pest generally does not negatively impact yield this late in the season, large populations can cause cosmetic injury by depositing sticky droppings on developing fruit.  A secondary fungus (sooty mold) grows on this substrate. Additionally, the sweet aphid droppings can attract hornets.  This is a problem particularly in fields that are to be opened for U-pick customers.  Recommended insecticides may be found in the 2019 Commercial Vegetable Production Guide, with several including Fulfill and Beleaf  being much less toxic to bees.  Consider treating if melon aphid colonies are found in more than one site in a ten site sample.
Cole Crops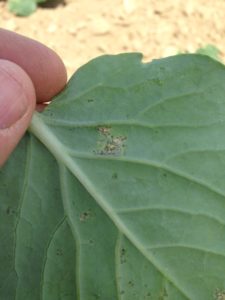 As we hit the peak fall growing season, acreage of all types of cole crops is significant.  Be aware that beside the usual caterpillar pest problems, there are diseases with which to contend.  Downy mildew (photo at left) is a common problem in collards, especially.  Yellow lesions form on the upper surface of leaves, and sparse, whitish sporulation may be found on the underside of affected leaves.  Broccoli is also commonly impacted by this disease as the weather cools and dews become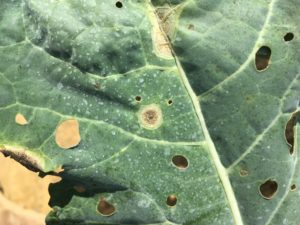 heavier.    Alternaria (photo at right) is also an increasingly common disease of cole crops at this time of year.  Alternaria can become a serious problem on broccoli heads, and double cropping cole crops can make this situation more severe.  Be sure to incorporate all crop residue into soil as soon as the crop is harvested.  See the 2019 Commercial Vegetable Production Guide for recommended materials to manage crucifer downy mildew and alternaria.
Imported cabbageworms (ICW) and diamondback moth larvae (DBM) are hitting late summer cole crop plantings.  Be sure to scout weekly, and treat plantings if heading type  crops (cabbage, broccoli, cauliflower) are 10% or more infested in the 0-9 true leaf stage, 20% infested from 9-pre head, and 5% with heads forming.  Leafy types like collards and kale should be treated whenever the 10% plants infested threshold is reached.  Remember that DBM is resistant to pyrethroid insecticides.  Reliable DBM control is achieved with spynosins (IRAC 5) or IRAC 28 materials like Coragen.
Allium Leaf Miner
Allium leaf miner is active in NJ at this time.  All growers of scallions, leeks, onions and garlic should employ the control method of their choice at this time until the end of the second flight.  Floating row covers, kept on until the second flight ends will help minimize access to plants.  Insecticide applications targeting adults may be helpful as well, although frequency of applications is uncertain.  Spinosyn materials (Radiant, Entrust (OMRI approved)), pyrethroids (Mustang Maxx, Warrior), and pyrethrin materials (Pyganic (OMRI approved)), neonicotinoids (Scorpion, Venom) and the insect growth regulator Trigard are labeled for miner control.  We will attempt to identify and report on the end of this flight.