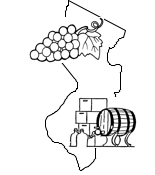 The symposium is a day-long series of lectures by professionals in viticulture, enology, and marketing.
Lectures are designed to present new and relevant information to professionals and amateurs involved with any aspect of grape growing or the wine industry.
This program will look at the similarities of the New Jersey terroir and Bordeaux and present methods to adapt our Mid-Atlantic grape and wine production to more closely resemble French methodology. The making of the 2011 Governor's Cup winners will also be addressed.
Adapting Bordeaux Methodology to Mid-Atlantic Wine Production.  Edward Boyce – Black Ankle Vineyards
Rootstock/Vine Growth Interaction, Rethinking Your Future Selections.  Dr. Terry Bates, Cornell University
Governor's Cup Reviews.  Cameron Stark, Charles Tomasello, Darren Hessington
Cover Crops to Optimize Vine Growth.   Gill Giese, Shelton Vineyards
The Biology of Botrytis in Vineyards.   Dr. Peter Oudemans-RCE Pathologist
Two Invasive Late-Season Pests in Wine Grapes.   Dr. Anne Nielsen-RCE Entomologist, Dean Polk, IPM Agent – RCE
NJ Wine Grape Growing: The Beauty and the Challenges of a Humid Climate.   Dr. Dan Ward – RCE Pomologist
Date: February 23, 2013
Location: Forsgate Country Club, 375 Forsgate Drive, Monroe Twp, NJ
Brochure