This week in Fruit IPM

Tree Fruit
Grape
Blueberry
PEACH
Oriental Fruit Moth (OFM): Insect pressure is very low since we are between generations. A few sites in northern counties have over 6-8 moths per trap. These sites should still be treated, but overall it is too early to treat on most farms where trap counts are low. Timings for third brood OFM applications are updated as follows:
Third Brood OFM Timing Dates
Insecticide Type
County/Region
Degree Days by 8/6 base 45
Conventional
Intrepid / IGRs
Diamides
Gloucester – Southern
2819
1st – past

2nd –past

1st – past

2nd –past

1st – past

2nd –past

Hunterdon – Northern
2511
1st – past

2nd – 8/12-8/15

1st – past

2nd – 8/10-8/8/12

1st – past

2nd – 8/9-8/12

Tufted Apple Budmoth (TABM): Populations are very low at this point, and no treatments should be needed on most farms. If populations increase, then the timings outlined below can be observed at that time.
| | | | | |
| --- | --- | --- | --- | --- |
| | Conventional, Diamides | Conventional, Diamides | Intrepid, Rimon | Bt |
| County Area | AM – 4 middles | EM – 2 completes | EM – 2 completes | EM – 2 completes |
| Southern | 3rd – 8/16-17; 4th – 8/22-24 | 2nd – 8/19-22 | 2nd – 8/18-21 | 2nd – 8/16-19 |
| Northern | 1st – 8/13-15, 2nd – 8/21-23 | 1st – 8/16-17 | 1st– 8/19-22 | 1st – 8/19-22 |
APPLE
Tufted Apple Budmoth: See Peach Section above.
Brown Marmorated Stink Bug (BMSB): Some farms are showing low numbers of adults and nymphs. A few fruit are being seen with fresh injury. This is normally the time of year when BMSB starts to become more visible in orchards, so more aggressive programs are justified from now on if BMSB is present.
San Jose Scale: In southern orchards, if scale insects are present, and they have not been treated then now is the time since crawlers are present. Few are present in northern locations at the present time. Actara, Belay, and Voliam Flexi all are effective if being used for BMSB. Esteem is effective, but its only target would be scale.
Summer Diseases: Sooty blotch, Fly Speck, and Bitter Rot are the main diseases to control in August. Pristine, Flint+Captan, Captan or Captan + Ziram or Topsin-M combinations are all effective. Merivon is not rated for control but should be as effective as Pristine.

GRAPE
Grape Berry Moth (GBM): Trap counts are very low, indicating we are between generations in southern vineyards. Any treatments for the 4th generation will be due by the very end of August in southern counties.
Grape Trap Captures 2014
Date
GBM
GRB
7/5
4.3
2.3
7/13
6.2
7.5
7/20
.25
18.5
7/26
.5
14
8/2
.3
15
8/9
.1
16.7
BLUEBERRY
Spotted Wing Drosophila (SWD): Most sites are recording SWD adults in traps, although trap counts are still much lower than last year at this time. The Trecé treatments are still capturing the most adults. Fields continue to be tested for SWD larvae, although these are fields no longer being harvested. Most sampled fields are showing 2-3 larvae per qt. of fruit. This is also significantly lower than last year at this time, but continues to indicate that even low trap counts DO NOT equal clean fruit.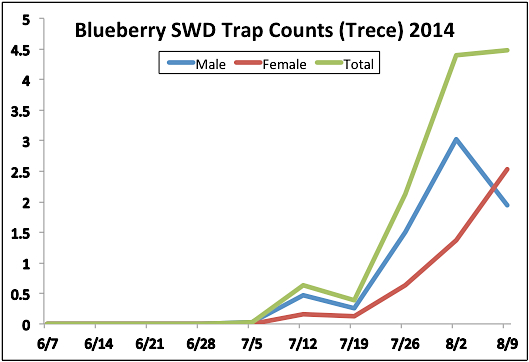 Putnam Scale: Crawlers are now present on trap tapes that were placed on infested bushes. This is the start of Putnam scale emergence. If using Esteem, then treatments can be applied now. If using Diazinon, then wait until next week. No matter what the insecticide is, use enough volume.
Sharpnosed Leafhopper (SNLH): The SNLH adult flight has started, but at very low levels. In past years, low counts in August have resulted in a late and drawn out 2nd generation emergence. It is too early to treat for SNLH at this time. This should be revisited during the last part of August or early September.
Blueberry Insect Trap Captures
| | | |
| --- | --- | --- |
| Week Ending | BBM | SNLH |
| Burlington Co. | | |
| 7/26 | 0.06 | 0.06 |
| 8/2 | 0.055 | 0.0 |
| 8/9 | 0.0 | 0.0 |
| Atlantic Co. | | |
| 7/26 | 0.33 | 0.0 |
| 8/2 | 0.2 | 0.0 |
| 8/9 | 0.27 | 0.083 |
Tree Fruit Trap Counts – Southern Counties
| | | | | | | | | | | |
| --- | --- | --- | --- | --- | --- | --- | --- | --- | --- | --- |
| Week Ending | STLM | TABM_A | CM | AM | OFM-A | DWB | OFM-P | TABM_P | LPTB | PTB |
| 4/13 | | | | | 0 | | 0 | | | |
| 4/20 | 14 | | | | 5 | | 0 | | | |
| 4/27 | 0 | | | | 51 | | 1 | | | |
| 5/3 | 19 | | | | 51 | | 1 | | | |
| 5/10 | 41 | 0 | 3 | | 36 | | 5 | 0 | | |
| 5/17 | 21 | 2 | 12 | | 15 | | 6 | 4 | 27 | |
| 5/24 | 1 | 10 | 6 | | 6 | 3 | 1 | 7 | 34 | |
| 5/31 | 1 | 4 | 3 | | 10 | 53 | 2 | 28 | 52 | |
| 6/7 | 1 | 27 | 5 | | 9 | 19 | 2 | 21 | 38 | |
| 6/13 | 0 | 17 | 6 | | 5 | 99 | 0 | 75 | 52 | |
| 6/20 | 0 | 13 | 4 | | 5 | 88 | 0 | 11 | 10 | |
| 6/28 | 13 | 4 | 4 | | 5 | 82 | 2 | 3 | 31 | |
| 7/5 | 0 | 1 | 2 | 0 | 11 | 30 | 0 | 1 | 10 | |
| 7/13 | 0 | 1 | 2 | 0 | 0 | 23 | 0 | 0 | 30 | |
| 7/20 | 6 | 1 | 3 | 0 | 0 | 42 | 0 | 1 | 23 | |
| 7/26 | 34 | 2 | 13 | 0 | 1 | 41 | 1 | 1 | 16 | 8 |
| 8/2 | 149 | 1 | 7 | 0 | 1 | 4 | 2 | 2 | 7 | 10 |
| 8/9 | 64 | 1 | 4 | 0 | 2 | 61 | 2 | 1 | 10 | 5 |

Tree Fruit Trap Counts – Northern Counties
| | | | | | | | | | | | |
| --- | --- | --- | --- | --- | --- | --- | --- | --- | --- | --- | --- |
| Week Ending | STLM | TABM-A | CM | AM | OFM-A | DWB | OBLR | OFM-P | TABM-P | LPTB | PTB |
| 4/13 | 1 | | | | | | | | | | |
| 4/20 | 2 | | | | | | | 0 | | | |
| 4/27 | 71.5 | | 0 | | | | | 1.1 | | | |
| 5/3 | 41 | | 0.0 | | 3.5 | | | 1.3 | | | |
| 5/10 | 91.5 | 0.0 | 0.0 | | 31 | | | 18.2 | 0.0 | 0.0 | |
| 5/17 | 67.5 | 0.0 | 4.5 | | 57.7 | | | 21.4 | 0.0 | 0.0 | |
| 5/24 | 35.5 | 2.3 | 5.6 | | 12.7 | | | 4.5 | 1.4 | 10.4 | 0 |
| 5/31 | 18.3 | 5.6 | 9.3 | | 4.5 | 1 | | 2.3 | 6.4 | 25.8 | 0.3 |
| 6/7 | 12.5 | 22.1 | 7.8 | | 0.3 | 0.5 | 0 | 1 | 23.9 | 21.8 | 0.2 |
| 6/14 | 19.5 | 39.9 | 4.9 | | 0 | 0.3 | 0 | 0.2 | 39.2 | 15.4 | 1 |
| 6/21 | 110.3 | 54.7 | 3.5 | | 0 | 0.8 | 7.5 | 0.3 | 47.7 | 12.5 | 1.3 |
| 6/28 | 92 | 42.4 | 2.1 | | 0 | 4 | 16 | 1.6 | 43.7 | 7.2 | 1.7 |
| 7/5 | 143 | 32.8 | 1.8 | | 0.8 | 2 | 3.5 | 5.9 | 15.7 | 7.7 | 3.5 |
| 7/13 | 110 | 14.7 | 2.4 | 0 | 1 | 1 | 1.5 | 4.1 | 7.1 | 7 | 3.3 |
| 7/20 | 74 | 4.7 | 3 | 0 | 0 | 4 | 1 | 3.3 | 1.9 | 6.7 | 1.4 |
| 7/26 | 116 | 0.7 | 4.6 | 0 | 0 | 1.3 | 0 | 1.6 | 1.2 | 4.6 | 0.2 |
| 8/2 | 140.5 | 2 | 5.5 | 0 | 0 | 0.7 | 0.5 | 4 | 2.8 | 2.4 | 3 |
| 8/9 | 104 | 2.2 | 6.6 | 0 | 0 | 0.3 | 0.5 | 9.6 | 1 | 2.9 | 4.1 |