Peach
Oriental Fruit Moth (OFM): While overall pest pressure in peaches is very low for oriental fruit moth, we are at the proper time to treat if your farm has trap captures above 6 males per trap. Timing for third brood OFM applications are as follows:
OFM Third Generation Timing
Insecticide Type
County/Region
Degree Days by 8/6
base 45
Conventional
Complete
Intrepid/IGRs
Complete
Diamides
Complete
Gloucester-Southern
2803
All 3rd brood sprays completed. Treat if trap counts exceed 6 moths per trap.
All 3rd brood sprays completed. Treat if trap counts exceed 6 moths per trap.
All 3rd brood sprays completed. Treat if trap counts exceed 6 moths per trap.
Hunterdon-Northern
2511
1st – Past
2nd – 8/4-6 (Past)
1st – Past
2nd – 8/3-5 (Past)
1st – Past
2nd – 8/2-4 (Past)

Tufted Apple Budmoth (TABM): We are at the start of the second brood flight and egg laying period in all counties. This pest is not a concern on most farms. However if you had very high trap captures during the first flight, accompanied by any fruit damage then you may wish to target insecticides for the second flight. Timings for second generation TABM control are outlined below.
Conventional, Diamides
Conventional, Diamides
Intrepid, Rimon
Bt
County Area
AM – 4 Middles
EM – 2 Completes
EM – 2 Completes
EM – 2 Completes
Southern
1st – 7/29-30
2nd – 8/4-5
3rd – 8/9-12
4th – 8/17-18
1st – 8/1-3
2nd – 8/13-16
1st – 8/3-5
1st – 8/3-5
Northern
1st – 8/8–9
2nd – 8/15-16
1st – 8/10-13
8/13-16
8/13-16
Apple
Codling Moth (CM): Treatments for the second generation have already been applied. Adults will be mating and laying eggs for the third brood by next week in southern counties and by the end of the month in northern counties. There are 3 farms in northern counties with trap counts that are high and merit continued treatments. The average farm with trap counts below 5 moths per trap should not be treating for CM at this time, but should wait for the 3rd brood timing as outlined in the table below.
Codling Moth Degree Day Timing Third Brood
Application and Insecticide Type
Standard Insecticides:
2300DD
2600DD
Rimon, Intrepid, Diamides:
2200DD
2500DD
DD
2200
2300
2600
2200
2400
2500
County Area –Southern
8/8
8/12
About
8/24
8/8
8/16
About
8/20
County Area –Northern
About
8/26-27
About
8/26-27
Grape
Grape Root Borer (GRB): GRB adults continue to emerge. Adults are being seen in pheromone traps and pupal cases can be seen on the ground around the bases of vines. It should be noted that some of our monitored vineyards show very low to no pupal cases on the ground. Therefore population in these vineyards are very light. However other vineyards show heavier populations and will likely benefit from treatment. If you have a vineyard in northern counties that has a GRB infestation, borers have only recently begun to emerge. Therefore you have time to treat for this pest of you do so as soon as possible.
Grape Trap Captures 2015 
 Date
 GBM
 GRB
5/30
 1
6/6
 2
6/13
 4
6/20
 4
7/4
 7
7/11
 3
7/18
 1
7/25
 2
 10
8/1
 2
 17
Blueberry
Spotted Wing Drosophila (SWD): The average number of male SWD in Atlantic and Burlington counties increased over the past week. The average trap count in Atlantic county was 12.6 and 1.7 in Burlington county. The total number of males captured in the traps continues to increase with a total of 294 males last week. Trap monitoring for SWD adult males will continue throughout the remainder of the season.
There were two positive salt tests last week, one in Atlantic county and one in Burlington county. Both positives were from Blue Crop fields that were already harvested. Growers that are still harvesting should continue to follow the 7-day insecticide program for SWD, especially those with Elliott or other late varieties.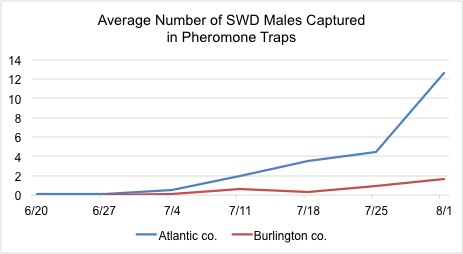 Sharp-nosed Leafhopper (SNLH): Trap counts remained low in both Atlantic and Burlington Counties since we are between generations (see table below). Second generation adult trap captures should start within the next couple of weeks.
Putnam Scale: We are continuing to monitor for second generation scale crawlers. If you had scale in some of your fields during the first generation, then you should plan on treating those fields when the second generation crawlers become active.
Blueberry Trap Counts
Atlantic County
Week ending
CBFW
OB
BBM
SNLH
SWD
6/6
0.01
9.7
0
–
–
6/13
0.04
94.5
0
0
0
6/20
0.04
1634
0.04
0.14
0.08
6/27
0.05
2065
0.11
0.12
0.16
7/4
–
2013
0.34
0.10
0.49
7/11
–
2064
0.06
0.07
1.93
7/18
–
1527
0.09
0.04
3.51
7/25
597
0.02
0.04
4.40
8/1
180
0.04
0.08
12.58
Burlington County
Week ending
CBFW
OB
BBM
SNLH
SWD
6/6
0
–
–
–
–
6/13
0.7
8.7
0
0.05
–
6/20
0.26
1799
0.0
0.15
–
6/27
0.25
1700
0
0.10
0.11
7/4
0.19
864
0
0.05
0
7/11
–
814
0.04
0.09
0.6
7/18
–
320
0
0
0.3
7/25
–
215
0
0
0.9
8/1
–
68
0
0
1.69
Tree Fruit Trap Counts – Southern Counties
| | | | | | | | | | | |
| --- | --- | --- | --- | --- | --- | --- | --- | --- | --- | --- |
| Weekend | STLM | TABM-A | CM | AM | OFM-A | DWB | OFM-P | TABM-P | LPTB | PTB |
| 4/18 | 0 | – | – | – | 0 | – | 0 | – | – | – |
| 4/25 | 23 | – | – | – | 5 | – | 0 | – | – | – |
| 5/2 | 8 | – | – | – | 9 | – | 0 | – | – | – |
| 5/9 | 23 | 0 | 2 | | 86 | | 14 | 0 | 7 | |
| 5/16 | 1 | 2 | 4 | | 50 | | 8 | 4 | 15 | |
| 5/23 | 4 | 13 | 8 | | 1 | | 6 | 32 | 24 | |
| 5/30 | 2 | 14 | 5 | | 2 | 11 | 2 | 20 | 124 | |
| 6/6 | 2 | 31 | 2 | | 2 | 28 | 2 | 53 | 32 | |
| 6/13 | 16 | 16 | 5 | | 2 | 15 | 3 | 29 | 5 | |
| 6/20 | 23 | 11 | 1 | | 13 | 35 | 1 | 23 | 43 | 0 |
| 6/27 | 32 | 3 | 1 | | 14 | | 1 | 6 | 24 | 1 |
| 7/4 | 25 | 2 | 3 | | 17 | 35 | 3 | 2 | 13 | 3 |
| 7/11 | 70 | 0 | 10 | – | 14 | – | 2 | 2 | 13 | 4 |
| 7/18 | 11 | 0 | 4 | | 27 | 8 | 1 | 1 | 14 | 0 |
| 7/25 | 52 | 1 | 6 | | 26 | 11 | 3 | 2 | 10 | 6 |
| 8/1 | 33 | 2 | 5 | | 35 | | 2 | 3 | 12 | 5 |
Tree Fruit Trap Counts – Northern Counties
| | | | | | | | | | | | |
| --- | --- | --- | --- | --- | --- | --- | --- | --- | --- | --- | --- |
| Weekend | STLM | TABM-A | CM | AM | OFM-A | DWB | OBLR | OFM-P | TABM-P | LPTB | PTB |
| 4/18 | 0 | – | – | – | 0 | – | | 0 | – | – | – |
| 4/25 | 14 | – | – | – | 0 | – | – | 0 | – | – | – |
| 5/2 | 36 | – | – | – | 0 | – | – | 0.6 | – | – | – |
| 5/9 | 148 | | 0.0 | | 2.1 | | | 17.1 | 0.0 | | |
| 5/16 | 92 | 0.0 | 7.9 | | 3.5 | | | 19.1 | 0.0 | 0.0 | 0.0 |
| 5/23 | 31 | 3.6 | 7.3 | | 8.5 | 5.3 | 0.0 | 4.4 | 1.1 | 3.1 | 0.0 |
| 5/30 | 37 | 9.1 | 7.7 | | 5.5 | 13.3 | 0.0 | 2.1 | 4.9 | 21.2 | 0.0 |
| 6/6 | 7 | 39.7 | 5.7 | | 0.7 | 14.7 | 3.3 | 0.6 | 37.1 | 23.8 | 0.7 |
| 6/13 | 25 | 53.9 | 4.8 | | 0.3 | 3.0 | 33.7 | 0.1 | 57.9 | 13.7 | 1.7 |
| 6/20 | 131 | 56.8 | 3.5 | | 0.7 | 4.3 | 32.0 | 2.2 | 81.5 | 10.7 | 4.0 |
| 6/27 | 204 | 44.9 | 2.4 | | 1.0 | 4.7 | 14.0 | 5.5 | 63.4 | 14.1 | 3.0 |
| 7/4 | 164 | 25.7 | 0.6 | 0.0 | 1.3 | 2.0 | 0.0 | 1.4 | 22.4 | 4.2 | 3.0 |
| 7/11 | 218 | 8.0 | 1.2 | 0.0 | 1.7 | 3.0 | 0.0 | 1.8 | 11.6 | 4.5 | 1.0 |
| 7/18 | 68 | 2.2 | 3.9 | 0.0 | 1.3 | 4.7 | 0.0 | 1.3 | 3.0 | 5.3 | 0.3 |
| 7/25 | 57 | 1.9 | 3.4 | 0.0 | 2.9 | 4.7 | 0.0 | 2.2 | 1.9 | 4.7 | 0.7 |
| 8/1 | 62 | 1.6 | 5.6 | 0.0 | 2.7 | 1.0 | 0.7 | 2.8 | 2.6 | 2.4 | 0.3 |