Peach
Oriental Fruit Moth (OFM): The third flight and all required treatment timings are now over throughout the state. Additional treatments will only be required on very late varieties, and only if trap counts exceed 6 moths per trap.
Tufted Apple Budmoth (TABM): We are in the middle of the second flight, but pest pressure is very low. On most farms treatments are not needed. If you did have feeding injury from the first generation or have high trap counts, then you may wish to observe the following TABM timings.

Conventional, Diamides
Conventional, Diamides
Intrepid, Rimon
Bt
County Area
AM – 4 Middles
EM – 2 Completes
EM – 2 Completes
EM – 3 Completes
Southern
1st – Past
2nd – Past
3rd – 8/9-12
4th – 8/17-18
1st – Past
2nd – 8/13-16
1st – Past
2nd – 8/13-16
1st – Past
2nd – 8/10-13
3rd – 8/18-20
Northern
1st – Past
2nd – 8/15-16
3rd – 8/21-23
4th – About 8/27-29
1st – 8/10-11
2nd – 8/24-26
1st – 8/13-16
2nd – 8/24-26
1st – 8/13-16
2nd – 8/21-24
3rd – About 9/1-3
Apple
Codling Moth (CM): Treatments for the second generation have already been applied. The timing for the 1st treatment of the 3rd brood is late this week in southern counties, and by next weekend in northern counties.
Codling Moth Degree Day Timing Third Brood
Application and Insecticide Type
Standard Insecticides:
2300DD
2600DD
Rimon, Intrepid, Diamides:
2200DD
2500DD
DD
2200
2300
2600
2200
2400
2500
County Area –Southern
8/8
8/12
8/24-24
8/8
8/16
8/20
County Area –Northern
8/23-24
8/26-27
9/13-14
8/23-24
9/5-6
9/10-11

San Jose Scale (SJS): SJS crawlers are still active. While growers who have active populations should have already made applications, you can still get quite a bit of control. This is especially true in northern counties, since the development is not as far along as in southern counties.
Grape
Grape Root Borer (GRB): While adults continue to emerge, most treatments should have already been made. Since there is a 35 day PHI for Lorsban, additional treatments are not suggested at this time.
Grape Berry Moth (GBM): The timing for the 4th generation treatments will be due about 8/19-20 in southern counties. This timing is for the use of Intrepid, Altacor, Belt and other diamide mixtures. The timing for the use of other insecticides will be 4-5 days later or about 8/23-25.
Grape Trap Captures 2015 
 Date
 GBM
 GRB
5/30
 1
6/6
 2
6/13
 4
6/20
 4
7/4
 7
7/11
 3
7/18
 1
7/25
 2
 10
8/1
 2
 17
8/8
 2
 8
Blueberry
Spotted Wing Drosophila (SWD): Over the past week there was a dip in the average number of male SWD per site in Atlantic county to 7.4; however, the Burlington county trap count average per site increased to 4.3. The total number of males captured in the traps continues to increase with a total of 406 males last week. Additionally, 83% of the trap sites in Atlantic county were positive for SWD and 80% of the trap sites were positive in Burlington county.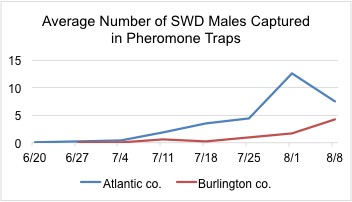 Sharp-nosed Leafhopper (SNLH): There was an increase in the number of second generation SNLH in both Atlantic and Burlington counties (see table); however, these numbers are still low and have not peaked yet. Numbers of SNLH trap captures should continue to increase over the next couple of weeks and treatments should be applied when SNLH populations are higher. If you are making an application for Putnam Scale (below), remember that scale timing is for scale and leafhopper timing is for leafhoppers. It is not wise to assume that diazinon applied for scale now will also function as your leafhopper treatment, although it will "hurt" them.
Putnam Scale: We are starting to see second generation scale crawlers on the traps that have been set. This means that those growers who previously had scale problems with the first generation, should now treat for the second generation. You can use diazinon if you have not already used it this season, or you can use Esteem. Do use plenty of spray volume – ALL WOOD must be covered.
Blueberry Trap Counts
Atlantic County
Week ending
CBFW
OB
BBM
SNLH
SWD
6/6
0.01
9.7
0
–
–
6/13
0.04
94.5
0
0
0
6/20
0.04
1634
0.04
0.14
0.08
6/27
0.05
2065
0.11
0.12
0.16
7/4
–
2013
0.34
0.10
0.49
7/11
–
2064
0.06
0.07
1.93
7/18
–
1527
0.09
0.04
3.51
7/25
597
0.02
0.04
4.40
8/1
180
0.04
0.08
12.58
8/8
92
0.01
0.19
7.4
Burlington County
Week ending
CBFW
OB
BBM
SNLH
SWD
6/6
0
–
–
–
–
6/13
0.7
8.7
0
0.05
–
6/20
0.26
1799
0.0
0.15
–
6/27
0.25
1700
0
0.10
0.11
7/4
0.19
864
0
0.05
0
7/11
–
814
0.04
0.09
0.6
7/18
–
320
0
0
0.3
7/25
–
215
0
0
0.9
8/1
–
68
0
0
1.69
8/8
–
21
0
0.03
4.3
Tree Fruit Trap Counts – Southern Counties
| | | | | | | | | | | |
| --- | --- | --- | --- | --- | --- | --- | --- | --- | --- | --- |
| Weekend | STLM | TABM-A | CM | AM | OFM-A | DWB | OFM-P | TABM-P | LPTB | PTB |
| 4/18 | 0 | – | – | – | 0 | – | 0 | – | – | – |
| 4/25 | 23 | – | – | – | 5 | – | 0 | – | – | – |
| 5/2 | 8 | – | – | – | 9 | – | 0 | – | – | – |
| 5/9 | 23 | 0 | 2 | | 86 | | 14 | 0 | 7 | |
| 5/16 | 1 | 2 | 4 | | 50 | | 8 | 4 | 15 | |
| 5/23 | 4 | 13 | 8 | | 1 | | 6 | 32 | 24 | |
| 5/30 | 2 | 14 | 5 | | 2 | 11 | 2 | 20 | 124 | |
| 6/6 | 2 | 31 | 2 | | 2 | 28 | 2 | 53 | 32 | |
| 6/13 | 16 | 16 | 5 | | 2 | 15 | 3 | 29 | 5 | |
| 6/20 | 23 | 11 | 1 | | 13 | 35 | 1 | 23 | 43 | 0 |
| 6/27 | 32 | 3 | 1 | | 14 | | 1 | 6 | 24 | 1 |
| 7/4 | 25 | 2 | 3 | | 17 | 35 | 3 | 2 | 13 | 3 |
| 7/11 | 70 | 0 | 10 | – | 14 | – | 2 | 2 | 13 | 4 |
| 7/18 | 11 | 0 | 4 | | 27 | 8 | 1 | 1 | 14 | 0 |
| 7/25 | 52 | 1 | 6 | | 26 | 11 | 3 | 2 | 10 | 6 |
| 8/1 | 33 | 2 | 5 | | 35 | 4 | 2 | 3 | 12 | 5 |
| 8/8 | 100 | 1 | 4 | | 42 | 10 | 3 | 3 | 14 | 9 |
Tree Fruit Trap Counts – Northern Counties
| | | | | | | | | | | | |
| --- | --- | --- | --- | --- | --- | --- | --- | --- | --- | --- | --- |
| Weekend | STLM | TABM-A | CM | AM | OFM-A | DWB | OBLR | OFM-P | TABM-P | LPTB | PTB |
| 4/18 | 0 | – | – | – | 0 | – | | 0 | – | – | – |
| 4/25 | 14 | – | – | – | 0 | – | – | 0 | – | – | – |
| 5/2 | 36 | – | – | – | 0 | – | – | 0.6 | – | – | – |
| 5/9 | 148 | | 0.0 | | 2.1 | | | 17.1 | 0.0 | | |
| 5/16 | 92 | 0.0 | 7.9 | | 3.5 | | | 19.1 | 0.0 | 0.0 | 0.0 |
| 5/23 | 31 | 3.6 | 7.3 | | 8.5 | 5.3 | 0.0 | 4.4 | 1.1 | 3.1 | 0.0 |
| 5/30 | 37 | 9.1 | 7.7 | | 5.5 | 13.3 | 0.0 | 2.1 | 4.9 | 21.2 | 0.0 |
| 6/6 | 7 | 39.7 | 5.7 | | 0.7 | 14.7 | 3.3 | 0.6 | 37.1 | 23.8 | 0.7 |
| 6/13 | 25 | 53.9 | 4.8 | | 0.3 | 3.0 | 33.7 | 0.1 | 57.9 | 13.7 | 1.7 |
| 6/20 | 131 | 56.8 | 3.5 | | 0.7 | 4.3 | 32.0 | 2.2 | 81.5 | 10.7 | 4.0 |
| 6/27 | 204 | 44.9 | 2.4 | | 1.0 | 4.7 | 14.0 | 5.5 | 63.4 | 14.1 | 3.0 |
| 7/4 | 164 | 25.7 | 0.6 | 0.0 | 1.3 | 2.0 | 0.0 | 1.4 | 22.4 | 4.2 | 3.0 |
| 7/11 | 218 | 8.0 | 1.2 | 0.0 | 1.7 | 3.0 | 0.0 | 1.8 | 11.6 | 4.5 | 1.0 |
| 7/18 | 68 | 2.2 | 3.9 | 0.0 | 1.3 | 4.7 | 0.0 | 1.3 | 3.0 | 5.3 | 0.3 |
| 7/25 | 57 | 1.9 | 3.4 | 0.0 | 2.9 | 4.7 | 0.0 | 2.2 | 1.9 | 4.7 | 0.7 |
| 8/1 | 62 | 1.6 | 5.6 | 0.0 | 2.7 | 1.0 | 0.7 | 2.8 | 2.6 | 2.4 | 0.3 |
| 8/8 | 33 | 2.1 | 3.0 | 0.0 | 5.5 | 1.3 | 1.0 | 1.4 | 2.2 | 2.2 | 0.0 |