Peach
Oriental Fruit Moth (OFM): While overall pest pressure in peaches is very low for oriental fruit moth, we are at the proper time to treat if your farm has trap captures above 6 males per trap. Timing for third brood OFM applications are as follows:
OFM 3nd Generation Timing
Insecticide Type
County/Region
Degree Days by 7/22
base 45
Conventional
Intrepid/IGRs
Diamides
Gloucester-Southern
2317
1st – 7/17-19,
2nd – 7/27-28
1st – 7/14-15,
2nd – 7/25-27
1st – 7/13-18,
2nd – 7/24-27
Hunterdon-Northern
2053
1st – 7/24-28,
2nd – about 8/5-7
1st – 7/22-24,
2nd – about 8/3-5
1st – 7/22-23,
2nd – about 8/3-5

Tufted Apple Budmoth (TABM): We are between 1st and 2nd generations, and there is no activity at this time. If you had very high trap captures during the first flight, then you may wish to target insecticides for the second flight. Timings for second generation TABM control are outlined below.
| | | | | |
| --- | --- | --- | --- | --- |
| | Conventional, Diamides | Conventional, Diamides | Intrepid, Rimon | Bt |
| County Area | AM – 4 Middles | EM – 2 Completes | EM – 2 Completes | EM – 2 Completes |
| Southern | 1st – 7/30-31 | 1st – 8/1-2 | 1st – 8/4-5 | 1st – 8/4-5 |
| Northern | Too far off | Too far off | Too far off | Too far off |

San Jose Scale (SJS): Second generation crawlers have been observed in southern counties. Effective materials include Assail, AdmirePro, Leverage, Actara, Belay, Diazinon, Esteem, Centaur, and Movento. See the production guide for rates. Check the label for use restrictions, especially for the neonicotinoids, which have highly restrictive maximum use levels per season. Movento may not prevent fruit damage as it takes about a week to become fully active. Peak crawler emergence usually occurs sometime in late July or early August in southern counties. Diazinon is limited to one in-season application per season.
Peach Scab: Peach scab is appearing in some blocks. Scab seen now is the result of infections that occurred 6 or more weeks ago. While additional scab lesions may yet appear in orchards that had high levels of infection last year, for the most part scab treatments are over and nothing more can be done for control this year.
Brown Rot: Some rot has been seen in ripening nectarine blocks and a few peach blocks. Where brown rot is present, it presents very high inoculum levels for disease control. If practicable, removal of rotten fruit from the orchard will aid in control in affected blocks, and possibly the edges of adjacent blocks that have not yet begun to ripen. Rotate fungicides and maintain a tight program. See this week's article by Dr. Norm Lalancette for more information, Brown Rot Management in a Wet Growing Season: Part I.
Apple
Tufted Apple Budmoth (TABM): We are between generations, but treatments will be due by late next week if you are the rare orchard that has a high population of this insect. See Peach Section above. If you are using a diamide for codling moth control you should be able to skip the early treatments for TABM.
Codling Moth (CM): All 2nd generation treatments should have just been applied. No additional insecticides are needed unless trap captures are above 5 males per trap. Trap counts indicate low populations on most farms, with some locations with higher pressure. Third generation treatments will be due during the second week of August in southern counties and about a week later in northern counties.
Codling Moth Degree Day Timing
Application and Insecticide Type
Rimon, Intrepid,
Diamides, Delegate:
1150-1200DD
1450-1500DD
Standard Insecticides,
1250DD
1550-1600DD
DD
1150
1200
1500
1250
1550
1600
County Area – Southern
Past
Past
Past
Past
Past
7/23
County Area – Northern
Past
Past
7/25-26
Past
7/26-27
7/30

European Red Mites (ERM): Mites continue to be troublesome, and we have observed poor control in some orchards. If using Zeal or Envidor, evaluation should be done 7-10 days after the application since these products take time to work. The addition of a summer oil combined with a miticide has helped in the past. Do not use any oils with or close to Captan applications. Nealta (BASF) is a new miticide with a different mode of action than older materials. It IS NOT systemic, and therefore requires thorough coverage to be effective. It is effective on all life stages of 2 spot and European red mites, but not rust mites. Use only one application before rotating to another chemistry. Field experience indicates good control when applied dilute and with good coverage. Like Zeal, evaluation should be done about a week after application as it appears to take some time to work.
San Jose Scale: See Peach Section above. Movento should not be relied on for control at this point in the season. Past experience indicates mid to late season applications are ineffective on apple.
Grape
Grape Berry Moth (GBM): The next timing for Intrepid and diamide insecticides is this week on or about 7/23 in southern counties. Grape berry moth is mostly an edge related pest, so check the border rows of vineyards first in order to assess the need for a treatment.
Grape Root Borer (GRB): GRB adults have started to emerge. While it is easy to capture GRB adults, a trap capture Does Not mean that you have a problem. The adults could be coming from outside or inside the vineyard. Careful scouting for pupal cases (signifying emerged adults), around the base of vines is the only way to know if you have a problem.
Pupal cases are being seen in several locations. GRB will continue to emerge throughout July and much of August.
While treatment thresholds and guidelines have been elusive, most of the work has focused on looking at the number of borers per vine and/or the percent of vines infested. Since it takes 6-8 weeks to do this type of assessment, it does not lend itself to quick decisions. However, if you see stressed vines and can easily see the pupal cases around the base of the vines (see photo), then the correct timing would be now. Lorsban has a 35 day PHI for grapes.
Grape Trap Captures 2015 
 Date
 GBM
 GRB
5/30
 1
6/6
 2
6/13
 4
6/20
 4
7/4
 7
7/11
 3
7/18
 1
Blueberry
Spotted Wing Drosophila (SWD): The average number of male SWD adults in trap captures increased in Atlantic county increased over the past week, but decreased in Burlington county. The average trap count in Atlantic county was 3.51 and 0.3 in Burlington county. In addition, the total number of sites where SWD was found increased in Atlantic county to 33 sites and decreased in Burlington county to 2 sites. The total number of males captured in the traps last week was 181. Trap monitoring for SWD adult males will continue throughout the remainder of the season.
We also monitored with salt tests and had 2 positive tests in Atlantic County in isolated fields, and no positive tests in Burlington county. Growers that are still harvesting should continue to follow the 7-day insecticide program for SWD, especially those with Elliott or other late varieties.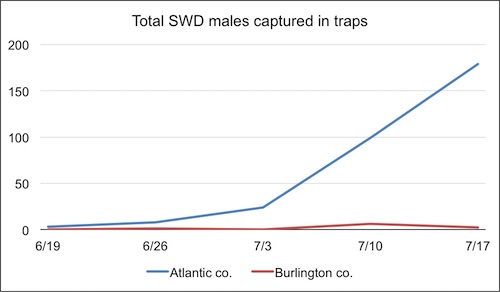 Blueberry Maggot (BBM): Blueberry maggot remained low in both counties over the past week. Treatment options effective against BBM and SWD include: Asana, Adjourn, Brigade, Danitol, Exirel, Hero, Imidan, Lannate, Malathion and Delegate.
Sharp-nosed Leafhopper (SNLH): We are between generations and trap counts of adults remains very low. We are continuing to monitor for SNLH second generation.
Oriental Beetle (OB): Trap numbers decreased in both Atlantic and Burlington counties over the past week (see table below). Based off of the numbers, peak emergence has already occurred. Since the target for treatment applications is OB larvae, treatments should have already been made at this time.
Putnam Scale: We continue to see scale present at several locations. Second generation crawlers can be treated at the end of July to the beginning of August.
Anthracnose: Over the past week 30% of the sites that were scouted had some anthracnose visible in the field in Atlantic or Burlington counties.
Blueberry Trap Counts
Atlantic County
Week ending
CBFW
OB
BBM
SNLH
SWD
6/6
0.01
9.7
0
–
–
6/13
0.04
94.5
0
0
0
6/20
0.04
1634
0.04
0.14
0.08
6/27
0.05
2065
0.11
0.12
0.16
7/4
–
2013
0.34
0.10
0.49
7/11
–
2064
0.06
0.07
1.93
7/18
–
1527
0.09
0.04
3.51
Burlington County
Week ending
CBFW
OB
BBM
SNLH
SWD
6/6
0
–
–
–
–
6/13
0.7
8.7
0
0.05
–
6/20
0.26
1799
0.0
0.15
–
6/27
0.25
1700
0
0.10
0.11
7/4
0.19
864
0
0.05
0
7/11
–
814
0.04
0.09
0.6
7/18
–
320
0
0
0.3
Tree Fruit Trap Counts – Southern Counties
| | | | | | | | | | | |
| --- | --- | --- | --- | --- | --- | --- | --- | --- | --- | --- |
| Weekend | STLM | TABM-A | CM | AM | OFM-A | DWB | OFM-P | TABM-P | LPTB | PTB |
| 4/18 | 0 | – | – | – | 0 | – | 0 | – | – | – |
| 4/25 | 23 | – | – | – | 5 | – | 0 | – | – | – |
| 5/2 | 8 | – | – | – | 9 | – | 0 | – | – | – |
| 5/9 | 23 | 0 | 2 | | 86 | | 14 | 0 | 7 | |
| 5/16 | 1 | 2 | 4 | | 50 | | 8 | 4 | 15 | |
| 5/23 | 4 | 13 | 8 | | 1 | | 6 | 32 | 24 | |
| 5/30 | 2 | 14 | 5 | | 2 | 11 | 2 | 20 | 124 | |
| 6/6 | 2 | 31 | 2 | | 2 | 28 | 2 | 53 | 32 | |
| 6/13 | 16 | 16 | 5 | | 2 | 15 | 3 | 29 | 5 | |
| 6/20 | 23 | 11 | 1 | | 13 | 35 | 1 | 23 | 43 | 0 |
| 6/27 | 32 | 3 | 1 | | 14 | | 1 | 6 | 24 | 1 |
| 7/4 | 25 | 2 | 3 | | 17 | 35 | 3 | 2 | 13 | 3 |
| 7/11 | 70 | 0 | 10 | – | 14 | – | 2 | 2 | 13 | 4 |
| 7/18 | 11 | 0 | 4 | | 27 | 8 | 1 | 1 | 14 | 0 |
Tree Fruit Trap Counts – Northern Counties
| | | | | | | | | | | | |
| --- | --- | --- | --- | --- | --- | --- | --- | --- | --- | --- | --- |
| Weekend | STLM | TABM-A | CM | AM | OFM-A | DWB | OBLR | OFM-P | TABM-P | LPTB | PTB |
| 4/18 | 0 | – | – | – | 0 | – | | 0 | – | – | – |
| 4/25 | 14 | – | – | – | 0 | – | – | 0 | – | – | – |
| 5/2 | 36 | – | – | – | 0 | – | – | 0.6 | – | – | – |
| 5/9 | 148 | | 0.0 | | 2.1 | | | 17.1 | 0.0 | | |
| 5/16 | 92 | 0.0 | 7.9 | | 3.5 | | | 19.1 | 0.0 | 0.0 | 0.0 |
| 5/23 | 31 | 3.6 | 7.3 | | 8.5 | 5.3 | 0.0 | 4.4 | 1.1 | 3.1 | 0.0 |
| 5/30 | 37 | 9.1 | 7.7 | | 5.5 | 13.3 | 0.0 | 2.1 | 4.9 | 21.2 | 0.0 |
| 6/6 | 7 | 39.7 | 5.7 | | 0.7 | 14.7 | 3.3 | 0.6 | 37.1 | 23.8 | 0.7 |
| 6/13 | 25 | 53.9 | 4.8 | | 0.3 | 3.0 | 33.7 | 0.1 | 57.9 | 13.7 | 1.7 |
| 6/20 | 131 | 56.8 | 3.5 | | 0.7 | 4.3 | 32.0 | 2.2 | 81.5 | 10.7 | 4.0 |
| 6/27 | 204 | 44.9 | 2.4 | | 1.0 | 4.7 | 14.0 | 5.5 | 63.4 | 14.1 | 3.0 |
| 7/4 | 164 | 25.7 | 0.6 | 0.0 | 1.3 | 2.0 | 0.0 | 1.4 | 22.4 | 4.2 | 3.0 |
| 7/11 | 218 | 8.0 | 1.2 | 0.0 | 1.7 | 3.0 | 0.0 | 1.8 | 11.6 | 4.5 | 1.0 |
| 7/18 | 68 | 2.2 | 3.9 | 0.0 | 1.3 | 4.7 | 0.0 | 1.3 | 3.0 | 5.3 | 0.3 |